Isle visitor spending up
A triple-digit increase in cruise ship arrivals to Hawaii helped boost overall visitor spending in May.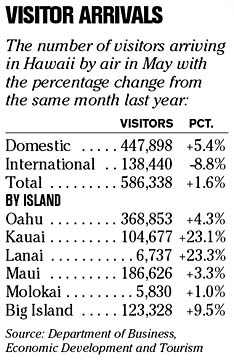 Cruise ship visitor arrivals jumped 169 percent last month compared to a year earlier, contributing to a 3.1 percent increase in overall spending to $914.5 million, according to data released yesterday by the state Department of Business, Economic Development and Tourism.
Seven foreign cruise ships arrived in the islands last month, compared to only one ship a year earlier, said Marsha Wienert, state tourism liaison.
While the state is bracing to lose a large chunk of that business when Norwegian Cruise Line pulls one of its ships from Hawaii next year, Wienert believes part of the loss will be offset by new foreign vessels.
"There's good and bad with one NCL ship leaving the marketplace," she said. "I'm sure in season foreign ships will take the place of that particular ship."'
Year-on-year overall visitor arrivals were up 1.6 percent last month to 586,338, setting a new record for May.
Last month's visitors spent an average of $179 per person per day, $1 more than last year, and visitor days rose 2.7 percent.
Arrivals from the U.S. West were up 3.5 percent, U.S. East 6.8 percent and Canada 8.4 percent.
But Japanese tourism continued to fall off with arrivals dropping 10.3 percent.
"May had a big cruise ship jump, distorting arrivals and making it look better than it is," said Keith Vieira, director of Hawaii operations for Starwood Hotels & Resorts, adding Japanese business is down about 5 percent for the Sheraton hotels. "These are guests that are not shopping to a high level and not dining in restaurants to a high level. There shouldn't be a misleading view that because arrivals are up everybody's doing well."
While Japanese continued to spend the most daily at $272 per person, year-to-date spending dropped 7.9 percent to $776.4 million, compared to the same period last year.
Vieira said the hotels are focusing on driving short-term business from Japan with value-added promotions, while placing more effort into the U.S. market to make up for the shortfall.
"We're not going to give up on the Japanese market," he said. "But at the same time we can't rely that the market's going to bounce back."
The increase in overall spending mostly went to lodging as hotel rates continue to rise. However, the industry also saw greater spending in the food and beverages sector and activities, Wienert said.