West Maui brush fires force evacuations, threaten buildings
STORY SUMMARY »
WAILUKU » Two brush fires struck quickly in west Maui yesterday, forcing the evacuation of some Lahaina homes and burning a house in Olowalu. The American Red Cross was assisting the 10 occupants.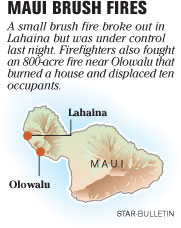 Firefighters were still battling the 800-acre Olowalu fire overnight. The fire also came close to the Olowalu General Store and Chez Paul French Restaurant.
A Maui County spokes- woman said firefighters were close to containing the Lahaina brush fire and that evacuated residents returned to their homes.
A shelter for stranded visitors was also set up by the county.
---
FULL STORY »
Two brush fires in west Maui swept near residential and rural areas, forcing evacuation of more than 10 people in Olowalu, stranding tourists and threatening homes in Lahaina.
Initial county reports yesterday evening said one house in the mountain area of Olowalu had been burned and that the fire came close to the Olowalu General Store and Chez Paul French Restaurant.
"It was pretty scary ... It's all black around the restaurant -- all the cow pastures, everything," said Chez Paul proprietor Patrick Callarec.
Callarec said the fire forced the evacuation of the building and he had heard that somebody's house behind the store had been burned. The American Red Cross was assisting the 10 family members who lived in the house.
The fire had burned electrical and telephone lines at Olowalu, but, luckily, Chez Paul cooks with propane gas, Callarec said. The fire had also slowed traffic for several hours and he himself took four hours to travel about six miles from Lahaina to Olowalu, Callarec said.
Maui photographer Jimmie Hepp said the brush fire was continuing to burn and was heading north and about a mile away from the mountainous residential area of Launiupoko.
Launiupoko resident Joan McKelvey said the fire was "flaring up" about a half mile south of her house. "I've never seen a fire go so fast," McKelvey said.
The fire had burned an estimated 800 acres and was spreading into mountain areas and away from the road, allowing police to open highways to traffic, said county spokeswoman Mahina Martin.
Martin said authorities expected the fire to burn through the night.
In addition to four helicopters and six tankers, some 60 county firefighters, 10 police and 15 state firefighters were battling the blazes yesterday, she said.
Martin said the fire was reported at 10:34 a.m. in Olowalu and quickly spread due to winds gusting to more than 30 mph.
She said the fire had spread to as high as 2,500 feet in elevation.
Kayak guide Aaron Longshore said he was preparing to take people out on a tour at a beach about a quarter mile south of Olowalu when he saw a fire close to Olowalu General Store about 10:30 a.m.
The fire began growing and moving up the Olowalu Valley.
Martin said the county was opening a shelter at Maui High School in Kahului, in anticipation that some visitors missed their flights and would need a place to stay overnight. About 40 people, mostly visitors, were at the shelter last night.
Visitors including those who were staying aboard a cruise ship in Kahului chartered boats to go from Lahaina to Maalaea Harbor and bypass the traffic, said Donnell Tate, a Lahaina photographer.
County firefighters also were called to a brush fire that came within 20 feet of homes at the Wahikulu subdivision, mauka of Safeway Food & Drug in Lahaina, forcing evacuations of some homes.
Firefighters were close to controlling the fire by the evening.