Coast Guard extends hunt for swimmer
STORY SUMMARY »
The U.S. Coast Guard continued to search last night for a missing tourist last seen Sunday off a remote beach on Kauai.
A Kauai resident, Michael Ancharski, recalled yesterday how he managed to help the man's pregnant wife to shore. But her husband became fatigued in the heavy swells.
"I'm drowning," the stricken swimmer told him, then, indicating his wife, added, "Tell her I love her."
Kauai rescue officials suspended their search for Roy Overstreet, 42, of Washington state. His wife, Cara Jaye, 42, was treated for minor injuries.
---
FULL STORY »
MOLOAA, Kauai » A man and his pregnant wife were swept off the reef Sunday by a high tide and a rising swell at Larson's, a remote Kauai beach, the man who tried to rescue them said yesterday.
While the woman, Cara Jaye, 42, was able to reach the shore, the husband, identified by county officials as Roy Overstreet, 42, of Bellingham, Wash, has yet to be found despite a two-day search.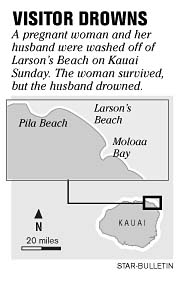 "He said, 'I'm drowning,' and 'Tell her I love her,' " said Dr. Michael Ancharski, their would-be rescuer, yesterday. "I was just a few feet away from him when he went down."
Ancharski, 56, a naturopathic physician from Kapahi, was just finishing a workout about 5:45 p.m. Sunday when he started the short hike along the bluff back to his vehicle. Notified by kids about a man and pregnant woman stuck on a rock near the edge of the reef, waving their arms for help, Ancharski said he went to help.
"I just figured I'd do something rather than nothing," he added.
Ancharski dove into the water, swimming out to the rock where the two were stuck. After climbing onto the rock to help, the three were washed into the water by a large wave.
But Overstreet was not a strong swimmer and got separated from the other two, Ancharski continued.
As the doctor tried to swim back and forth to keep the two of them afloat and away from the channel, Overstreet kept trying to get back to the rock. He became combative as Ancharski tried to help, he added.
Overstreet continued to bob up and down, but finally, he didn't come back up. Ancharski said he started to dive down and pull him up, but to no avail.
In the meantime, Jaye was able to scramble up onto the reef and reach the shore.
"She did good to get in," Ancharski added. "She had the will to save that baby."
County officials said Jaye was taken to Wilcox Hospital for treatment of minor injuries.
Ancharski, meanwhile, continued to dive for Overstreet, while rescuers from Hanalei and Lihue Fire stations arrived on the scene. They took Ancharski to Anini, but he refused medical care.
"I'm fine," he said yesterday. "My legs got a little cut up on the reef."
At 4:15 p.m. yesterday, Kauai fire officials suspended their active search for Overstreet after using lifeguards on shore and in boats and their contract rescue helicopter, but Coast Guardsmen in a C-130 aircraft continued their search last night.