Site choices down to 3 for high school in Kihei
The state is expected to chose the site of the Kihei Public High School by mid-August, according to a private consultant that narrowed potential lots for the campus from 11 to three this week.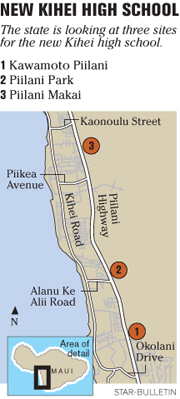 Residents of the fast-growing community on the Valley Isle have been pushing for years for the school.
The Kihei Public Charter School opened in 2001 but has been unable to satisfy demand. Each day, more than 1,000 Kihei students spend hours commuting to Baldwin High School in Wailuku and Maui High School in Kahului as well as to private schools, said Mary Cochran, a Board of Education member who represents Maui.
"It is sorely needed," she said. "They are battling traffic all the time."
About 80 people attended a meeting before the Kihei Community Association earlier this week to hear an update on the project by Munekiyo & Hiraga Inc., which the Department of Education hired to evaluate lots for the school.
The three sites being considered, all mauka of Piilani Highway, are within seven miles of each other, said Karlynn Kawahara, representative for the consulting firm.
They include a 149-acre plot owned by Japanese investor Genshiro Kawamoto near the Maui Meadows subdivision, 150 acres of county land near Kamalii Elementary School, and a large parcel owned by Haleakala Ranch and Kaonoulu Ranch, she said.
Kawamoto is offering the education department $5 million and 50 acres -- the minimum lot size required for a school -- in exchange for the remaining 95 acres or so he owns on Maui being converted to residential, and for ensuring that the infrastructure built for the school be sufficient for homes he wants to build.
The three sites met criteria that called for at least two vehicle access points near an existing residential neighborhood and utilities.
Maui developer Everett Dowling, who helped build Kamalii Elementary about 10 years ago through a public-private partnership, is interested in developing the new school on the county land, said Kawahara.
That parcel was set aside for a South Maui recreational park, but workers have found problems with its slope, gulches and blue rock in the area, said county spokeswoman Mahina Martin.
She said Maui Mayor Charmaine Tavares remains committed to the park and a new school.
"The community has made it clear that it desires and needs a new high school," Martin said.
The consulting company will work with engineers, architects, archaeologists, and flora and fauna specialists to check how each site could affect traffic flow, the environment and costs of building the school.
The education department will wait for the study before picking a site, said Randy Moore, assistant superintendent.
So far, lawmakers have appropriated $27.3 million for planning, design and construction of the school, which is slated for completion in 2011. Its total cost should be about $141 million.
Kihei High School is among 17 new schools proposed in a six-year plan.