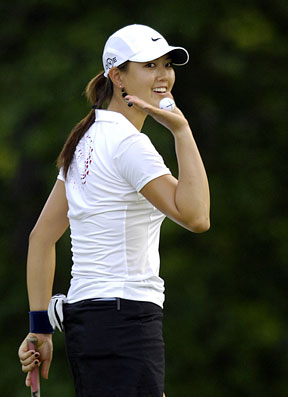 ASSOCIATED PRESS
Wie opts out of next month's Deere Classic
Unable to break par against the women, Michelle Wie is taking a break from competing against the men.
Wie yesterday decided to withdraw from next month's John Deere Classic as she tries to return from wrist injuries that have sent the recent Punahou graduate into a deep slump of high scores and shrinking confidence.
"While my rehabilitation is on schedule, I do not have all of my strength back yet," Wie said in a statement. "The TPC Deere Run course is obviously very long (7,193 yards), and I just don't have the length to play there right now."
The 17-year-old said she still plans to play next week in the U.S. Women's Open at Pine Needles, N.C., and said she would keep playing the rest of the summer as she tries to regain strength in her wrists.
Wie has played the John Deere Classic the last two years on sponsor exemptions, nearly making the cut as a 15-year-old in 2005 with a performance that made her a celebrity with the community.
She opened with a 77 last year, then withdrew midway through the second round with heat exhaustion. Wie was taken from the course on a stretcher.
Wie's right wrist was taped at the Sony Open in January, where she shot 78-76.
She then broke a bone in her left wrist after she fell while jogging a few weeks later. She sat out four months, returning at the Ginn Tribute but withdrew under curious circumstances.
Wie was 14 over through 16 holes when she withdrew, citing wrist problems. Two more bogeys would have invoked the LPGA Tour's "Rule 88," in which non-tour members are banned for a year if they can't break 88. She showed up at Bulle Rock two days later to get ready for the LPGA Championship, and finished at 21 over par.
Wie has now gone 20 consecutive rounds without breaking par, eight of those against the men.
John Deere Classic tournament director Clair Peterson said in the statement he supported Wie's decision and looked forward to "welcoming her back when the time is right."