---
FAST FACTS HAWAII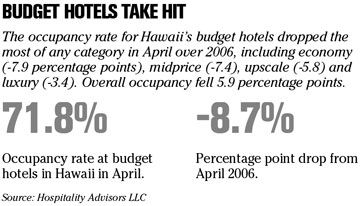 ---
Kimobean expands in Waikiki
Kimobean Hawaiian Coffee
is open at the newly renovated Wyland Waikiki hotel at 400 Royal Hawaiian Ave.
"My partners, Vernon Woo and Dennis Kwan, and I are very excited about our new store we are opening at the Wyland Waikiki," said Philip Miyoshi, Kimobean chief operating officer.
In addition to Hawaii-grown coffee roasted weekly in small batches, the store offers locally made pastries, sandwiches and desserts, as well as logo items.
Kimobean is one of several new vendors coming to the hotel, according to a statement.
[ HAWAII INC. ]
NEW HIRES / PROMOTIONS
» Mobi PCS has announced the following promotions and new hire:
Douglas Richardson
has been promoted to director of indirect and business-to-business sales from indirect sales manager. He will oversee the sales teams and coordinate sales through Mobi's dealer networks.
Joyce Vicente
has been promoted to marketing manager from marketing coordinator. She manage strategy in all marketing areas.
Tuan Nguyen
has been hired as director of customer care. He previously served as vice president of international operations for iTouchpoint.
» First Hawaiian Bank has announced the following new hire and promotions: Kent M. Kishi has been hired as facilities manager of the bank properties division. He will oversee building maintenance for First Hawaiian Center. He previously served as facilities manager at Kapiolani Medical Center at Pali Momi. Ronnie Reeves has been promoted to information management officer of retail information and planning. He has served the bank since 1995. Victoria Hiramoto has been promoted to special events officer. She has served the bank since 1991 and has more than 10 years of marketing experience in special events planning and coordination. Gladys M. Muraoka has been promoted to service manager at the Koloa branch. She has served the bank since 1970.
» Cowabunga! Computers has announced the following new technicians: Brian Rapoza will handle residential accounts and is a RoadRunner-approved technician. Robert Miles will hande government accounts. He previously served the U.S. Air Force for eight years.
» ALM Management Services has named Aileen Geronimo as revenue manager of the Ala Moana Hotel. She will be responsible for monthly revenue reports, and strategies to maximize revenue and occupancy, and assist with the establishment of financial goals and rate structures for department heads.
» Castle & Cooke has promoted Heather Ho to community and government relations coordinator. She will be responsible for helping with community and government relations for Castle & Cooke Hawaii. She has served the company since June 2005 and has more than 20 years of experience in contracting and real estate development.
» The American Lung Association has hired Beth-Ann Kozlovich as development director. She will oversee fundraising for special and signature events and will develop an annual giving campaign with major donors. She will continue to host programs for Hawaii Public Radio.
» Kober Hanssen Mitchell Architects has named Kelvin Chong as principal. He has 25 years of experience in renovations, tenant improvements and government projects.
BOARD ELECTIONS
» Island Insurance Co. has elected the following new directors to its board:
Ronald K. Migita
is chairman of the Board of Central Pacific Bank Financial Corp. and Central Pacific Bank.
Franklin M. Tokioka II
is chairman of the Board of Hawaiian Properties and executive vice president of National Mortgage & Finance Co.
AWARDS/CERTIFICATIONS
» The Association of Legal Administrators has designated
Robert G. Stevens
as a certified legal manager. He is chief operating officer for law firm Goodsill Anderson Quinn & Stifel. The certification program determines if a legal administrator has command of the core areas of knowledge for job performance.
» The CMPS Institute has designated Charles Keoho as a certified mortgage planning specialist. He is a mortgage broker with Maui Capital Group. Designees are able to offer clients strategies on mortgages, debt, home equity and real estate investment.
---
Home Depot unit fetches $10.3B
ATLANTA »
Home Depot Inc.
said yesterday it will sell its wholesale distribution business to a group of private equity firms for $10.3 billion over the objection of some shareholders.
The board of the world's largest home improvement store chain approved the sale of Home Depot Supply to Bain Capital Partners, Carlyle Group, and Clayton, Dubilier & Rice, ridding the company of a unit that former CEO Bob Nardelli saw as a big opportunity for growth.
The board also authorized a $22.5 billion increase in the company's share repurchase program.
Nardelli resigned in January after six years as chief executive amid a firestorm over his hefty pay and the company's lagging stock price. When Blake took over as CEO, he decided to review the supply unit, which serves contractors, homebuilders and other business customers.
Tyson sells no-antibiotics chicken
NEW YORK »
Tyson Foods
will no longer use antibiotics to raise chicken that is sold fresh in stores and will launch a $70 million advertising campaign to tout the shift, the nation's largest meat producer said yesterday.
The company said fresh chicken raised without antibiotics was shipped to stores Monday and will be sold beginning later this week in packaging that emphasizes that there are no artificial ingredients.
Consumers will have to pay slightly more for the privilege, though. Tyson Senior Vice President Dave Hogberg declined to specify how much of an increase shoppers will see at stores.
He added that competitors charge about $1.50 to $2 per pound more for boneless, skinless chicken breast without antibiotics and that the price hike for Tyson's antibiotic-free chicken would be less than $1 per pound.
Nissan directors forego bonuses
YOKOHAMA, Japan » Nissan Chief Executive Carlos Ghosn told shareholders today that the Japanese automaker's board members will forego their bonus pay to take responsibility for poor performance.
Ghosn acknowledged at a hall packed with hundreds of shareholders in Yokohama, south of Tokyo, that the company had not met its targets for fiscal 2006.
In the fiscal year that ended in March, Tokyo-based Nissan Motor Co. marked its first profit drop in seven years, the first time earnings have slid under the turnaround efforts led by Ghosn.
Ghosn tried to assure shareholders by saying Nissan was investing aggressively in the future, including opening plants in emerging markets, introducing new models, developing green technology and building brand image.
---
BUSINESS PULSE