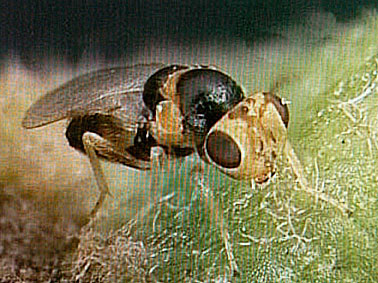 M. TREMBLAY / COURTESY HAWAII DEPT. OF AGRICULTURE
The gall wasp, or Quadrastichus erythrinae, burrows into the leaves and shoots of the wiliwili tree to create galls or tumors.
Wasp could counter threat to wiliwili trees
WAILUKU » State agricultural researchers say they've found an insect that can help to control the gall wasp that has been eating native wiliwili trees.
State plant pest control official Ken Teramoto said another wasp has been discovered that preys on the gall wasp.
The gall wasp, known by scientists as Quadrastichus erythrinae and discovered in Honolulu in 2005, burrows into the leaves and shoots of the wiliwili tree to create galls or tumors.
Efforts to control it through chemicals and trimming have been unsuccessful, and the gall wasp has spread to the other major islands in Hawaii.
Teramoto, the biological control section chief, said the predatory wasp lays its eggs inside the damaged leaves and its larvae eat the eggs and pupae of the gall wasp.
Teramoto said the gall wasp was believed to have come from East Africa and its predator also is from the same region.
He said state officials are developing an environmental assessment that will be submitted to the state Board of Agriculture and the U.S. Department of Agriculture for their review and approval.
Teramoto said the review usually takes about six months.
He said the state biological control section has been propagating the predatory wasp, scientifically known as Eurytoma sp., and testing it.
"We've found it does not attack anything else except the gall wasp in Hawaii," Teramoto said.
Teramoto said in the last 30 years, nothing the state branch has released has attacked an unintended target because researchers have a strict review process.
Federal research biologist Art Medeiros said he's hopeful the discovery will help to save the wiliwili and the ecosystem it helps to propagate in dryland areas, including other native insects, plants and birds.
He estimates there are about a quarter of a million wiliwili trees on Maui.
Medeiros said many of the trees have only a third of their normal number of leaves, and he fears a substantial number could die in several years if there were a drought.
Medeiros said the elimination of the wiliwili, known scientifically as Erythrina sandwicensis, could be the Achilles' heel that strips the ecosystem of native plants.
"The place would become unrecognizable," he said.
The gall wasp has attacked other plants related to the wiliwili, including coral trees used as a windbreak along Maui's Mokulele Highway and also at airports in Hawaii.