---
FAST FACTS HAWAII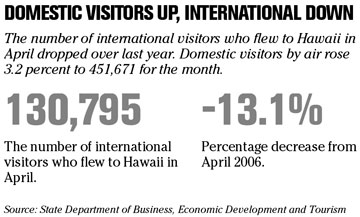 ---
Home prices slide on Maui
Maui's residential real estate market continued contracting last month as the median price of both single-family homes and condominiums dropped from the premiums paid in May 2006, according to statistics from the
Realtors Association of Maui Inc.
More than half of the single-family home buyers in Maui paid $650,150 to purchase their properties last month, which represented a 10.8 percent drop from the year-ago median price. The median price paid for a condominium in Maui fell too, by 11.4 percent to $531,325.
Expanded inventory and continued low interest rates provided plenty of options for Maui buyers in May, driving up the number of sales of single-family homes by 10.3 percent. However, 20.4 percent fewer condominiums changed hands.
ML Macadamia declares dividend
ML Macadamia Orchards LP
has declared a quarterly cash distribution of 5 cents per Class A unit that will be payable Aug. 15 to unit holders of record as of June 29.
The Kona-based grower of macadamia nuts has now kept its payout the same for the last 14 quarters.
Separately, the board of directors elected Scott Wallace as a director effective last Thursday. Wallace is currently general manager Americas and Asia for SVP Worldwide Corp. and formerly was chief executive of Gardenburger Corp. and Mauna Loa Macadamia Nut Corp.
---
Tech investors lose court ruling
WASHINGTON » The U.S. Supreme Court gave
Goldman Sachs Group Inc.
and other investment banks a new shield from antitrust claims, throwing out lawsuits that accused the securities industry of rigging 900 initial public offerings.
The justices, voting 7-1, yesterday overturned a federal appeals court ruling that had permitted suits against 16 investment banks and institutional investors, a group that also included Credit Suisse Group and Merrill Lynch & Co. The investors were seeking billions of dollars in damages.
The suits had threatened to roil the IPO business. Bank of America analyst Michael Hecht said Goldman Sachs had the most revenue from the business, $1.47 billion, according to Hecht, followed by Citigroup Inc., UBS AG, Morgan Stanley and Merrill Lynch.
The high court said an antitrust shield was warranted because the U.S. Securities and Exchange Commission regulates IPOs and lays out detailed rules governing what steps underwriters can and can't take.
Apple boosts iPhone battery life
CUPERTINO, Calif. »
Apple Inc.
says its highly anticipated iPhone will have a battery life that supports eight hours of talk time -- better than what the company originally estimated in January.
The company said yesterday the battery also supports seven hours of video playback, six hours of Internet use, 24 hours of music playback, and it will feature up to 10 days of standby time before requiring a recharge.
In January, Apple said it would support up to five hours of "talk/video/browsing" and up to 16 hours of audio playback. Competitors' phones -- such as Palm Inc.'s Treo and Research in Motion Ltd.'s BlackBerry Curve -- tout about four hours of talk time.
---
BUSINESS PULSE