---
FAST FACTS HAWAII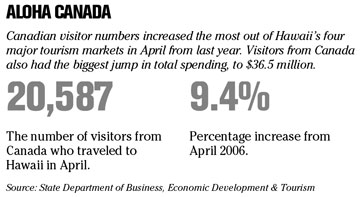 ---
Workers picket Pacific Beach Hotel
---
Hawaii team to go on Eastern blitz
A Hawaii sales team is heading to the East Coast to promote Hawaii as a business meeting destination to associations there interested in expanding in the Pacific Rim.
The effort, led by the Hawaii Visitors and Convention Bureau (HVCB) in collaboration with the Hawaii Convention Center, will hit the greater Washington, D.C., and Philadelphia regions next week.
The team will hit Philadelphia and south New Jersey first, then Washington, D.C., where it will host a Hawaii-themed trade-show exhibit at Springtime 2007.
The June 11 exhibit is expected to attract more than 800 exhibitors and 4,500 meetings professionals.
Representatives from Hilton Waikoloa Village, Hyatt Hotels of Hawaii, Marriott International Hawaiian Island Hotels, Mauna Lani Bay Hotel and Bungalows, Prince Resorts Hawaii, the Kahala Hotel & Resort and Turtle Bay Resort are part of the sales team.
---
Consumer borrowing slows
WASHINGTON » Consumer borrowing posted the smallest increase in six months in April as Americans actually paid off some of their credit card debt.
The Federal Reserve reported yesterday that consumer borrowing rose at an annual rate of just 1.3 percent in April, down from a 7 percent rise in March. It was the weakest showing since consumer debt rose at a tiny 0.1 percent rate last October.
The slowdown was led by a 0.5 percent rate of decline in the category of debt that includes credit cards. That meant consumers were paying off more credit card debt than they incurred in April, something that has not occurred in 13 months.
Qualcomm-based phones barred
WASHINGTON » A federal agency yesterday barred the import of new models of cell phones that contain semiconductors made by
Qualcomm Inc.
, because the chips violate a patent held by a rival,
Broadcom Corp.
The U.S. International Trade Commission's decision represents a compromise between a ban on all phones with Qualcomm chips, as Broadcom requested, and a ban only on the chips themselves, as recommended by an ITC administrative law judge late last year.
The White House now has 60 days to approve or overturn the ruling. Qualcomm also could settle the patent dispute with Broadcom, based in Irvine, Calif., or appeal the decision to a federal court, analysts said.
Mortgage rates climb again
WASHINGTON » Rates on 30-year mortgages rose for a fourth straight week, hitting the highest level in 10 months, as bond markets responded to strong employment growth.
Mortgage giant Freddie Mac reported yesterday that 30-year, fixed-rate mortgages averaged 6.53 percent this week. That was up sharply from 6.42 percent last week and represented the highest point for 30-year mortgages since they averaged 6.55 percent on Aug. 10.
Rates on 15-year, fixed-rate mortgages, a popular choice for refinancing, rose to 6.22 percent, up from 6.12 percent last week. Five-year adjustable-rate mortgages averaged 6.24 percent, up from 6.19 percent. One-year adjustable mortgages rose to 5.65 percent, up from 5.57 percent last week.
---
BUSINESS PULSE