Family fare fun but fake
A Disney sequel set in Hawaii obviously was not filmed here
THE MOVIE BUSINESS is all about illusion. Suspending what you know for the duration of the film is often part of the experience. But it's never a good idea to fake a location in Hawaii -- at least not to people who know the difference.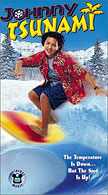 'JOHNNY KAPAHALA: BACK ON BOARD'
Premiere: 8 p.m. Friday on the Disney Channel
Repeats: Saturday and Sunday, and again June 14 and 27, July 9 and 24, and Aug. 8. It also will air at 1 and 8 p.m. Sept. 9 for Grandparents Day.
"Johnny Tsunami": Part 1 of the movie series airs at 8 p.m. Thursday on Disney.
Also: Cary-Hiroyuki Tagawa hosts an "Art of Acting" workshop, 9 a.m. to 4 p.m. Saturday and Sunday at the University of Hawaii. Call Pacific New Media, 956-8400.

"Johnny Kapahala: Back on Board" probably will be as big a hit for the Disney Channel as the 1999 "Johnny Tsunami" has been. But the New Zealand scenery -- lovely as it is -- just isn't Hawaii. (You know you are in trouble when the typically reliable Internet Movie Database offers the following summary: "In the movie, Johnny Kapahala, a teen snowboarding champion from Vermont, returns to Oahu, Hawaii, for the wedding of his hero -- his grandfather, local surf legend Johnny Tsunami -- and to catch a few famous Kauai waves.")
The only aspect of the movie that really does feel like Hawaii is Cary-Hiroyuki Tagawa, reprising his role as Grandpa Johnny Tsunami, whose breezy style and authentic pidgin give the movie a sense of place.
I watched an early version with my children, who are Disney Channel experts. They had thoroughly enjoyed "Johnny Tsunami," and they gave "Kapahala" a good report for the mountain-boarding action (which replaces the snowboarding that Kapahala took up when he moved from Hawaii to Vermont), Tagawa's charisma, and Brandon Baker's solid performance as Johnny Kapahala.
But they pointed out a few issues along the way. Why, for instance, is it such a surprise that Grandpa is marrying a woman with a 12-year-old son, Chris, who will become Kapahala's uncle? What, no phone conversations or e-mail?
They also grew weary of looking for redeeming qualities in Chris (Jake T. Austin). Finding your place in a blended family is tough, but sympathies wane when the circumstances involve a fabulous house near the beach, a stepfather eager to teach you to surf, a Playstation in your room and discipline only when you get dropped off at home by a police officer -- and you still can't manage one polite word.
Furthermore, why is Kapahala, who misses surfing, so easily enticed by a few less-than-charming mountain boarders who tear up the rugged trails on private property until the cops chase them away? They tell Kapahala that in this sport "you don't float, you bleed." (OK, the attractive female mountain boarder might be enough for a teenage boy.)
Obviously, it's a device to introduce a fresh sports angle, which is riveting enough to make us forget that young Johnny really should be in the saltwater more than he is. It also helps bond young Johnny and Chris in a believable way.
In true Disney fashion, all ends well. Rude people are punished or become nice, and every detail falls into place perfectly. My children agreed that the feel-good movie provides plenty of clean fun for the entire family -- and in that sense, there isn't a false note.