---
FAST FACTS HAWAII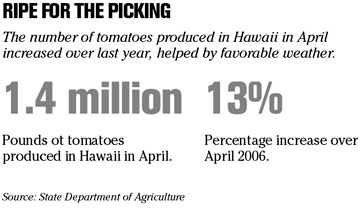 ---
Aloha takes back top spot
Aloha Airlines
, which briefly wrested the nation's top on-time performance crown from
Hawaiian Airlines
during the last two months of last year, has regained the No. 1 spot.
The state's second-oldest airline was the most punctual in April among 20 carriers in the United States with 95.4 percent of its flights arriving on time, according to the Air Travel Consumer Report released yesterday by the U.S. Department of Transportation. Hawaiian, which had held the top spot for 39 of the last 41 months -- including 36 in a row through October of 2006 -- finished second at 95.1 percent.
Overall, U.S. airlines had an on-time performance mark of just 72.5 percent this year through April, the worst rate since the federal government began keeping track in the current format in 1995.
Meanwhile, Aloha also held the top spot in April for fewest consumer complaints with none -- out of 320,524 boardings -- and was third for fewest misplaced bags (3.48 for every 1,000 customers) and third for fewest canceled flights (0.4 percent, representing 16 out of 3,882 total flights).
Hawaiian had both the fewest mishandled bags (2.75 bags for every 1,000 customers) and fewest canceled flights (0.2 percent, representing 11 out of 4,565 flights), and was 12th for fewest consumer complaints (0.87 percent, representing five out of 572,613 boardings).
Servco unveils new dealership
Servco Pacific Inc.
unveiled its new Servco Auto Leeward facility yesterday, on the 7-acre grounds of Servco's Waipahu Auto Co. at 94-729 Farrington Hwy.
Rick Ching, executive vice president of Servco, said the 77,687-square-foot showroom, parts and service facility is twice the size of its predecessor and includes a three-story sales building. The site's original Chevrolet dealership opened in 1951.
The $13 million, phased project began in April 2004. An additional $2 million is being spent on upgrades including landscaping, fixtures, furniture and other improvements.
Work will continue at the site as the old Waipahu Auto Chevy building is torn down, a new parking lot is built and a water feature for the entryway is completed.
Pre-owned vehicles will also be offered at the dealership, where later this year a commercial sales department will open. It will offer Chevrolet commercial trucks, Toyota forklifts, Hino trucks and buses and vehicles that have been converted for elderly passengers or other passengers with disabilities.
---
Palm sells 25 percent stake
SAN JOSE, Calif. » Smartphone maker
Palm Inc.
will sell a 25 percent stake to private equity firm
Elevation Partners
for $325 million and name the former technical guru behind the iPod to be chairman, the company said yesterday.
The deal with the long-term investor brings new leadership to Palm, which has been battling stiffening competition in a market that is only going to get tougher with Apple Inc.'s June 29 debut of the iPhone. As part of the deal, Palm will pay a special distribution of $9 per share, or about $940 million in cash, to shareholders.
Elevation partners Fred Anderson and Roger McNamee will join Palm's board, and Apple Inc.'s former top hardware engineer, Jon Rubenstein will join the board as executive chairman. Rubenstein ran the iPod division at Apple from 2004 to 2006 and was key in the creation of Apple's iMac computer before that.
---
BUSINESS PULSE