WAIKIKI AT NIGHT
Taking a stroll along the Beach Walk
Given the opportunity, most people -- at least those with a conscience -- would consider shopping for personal items on company time a no-no. Perusing shop windows or indulging in a cool treat or two is wrong if it's on anything but on your lunch hour, right?
Enjoy Moonlight Festival in Waikiki
Showcasing the best of what Waikiki has to offer, Friday's Waikiki By Moonlight festival will feature Hawaiian entertainment, cultural exhibits, demonstrations, and food, crafts and product sales.

From 6 to 10 p.m. on Kalakaua Avenue, between Lewers and Seaside, organizers hope to attract the approximately 9,000 people who attended last year's inaugural event.

Besides the festivities, enjoy a walk along a revitalized Royal Hawaiian Shopping Center and the new Waikiki Beach Walk complex.

Here's the entertainment lineup for the main stage, starting at 6:

» Halau Na Mamo O Pu'uanahulu and kumu hula Sonny Ching

» Nina Keali'iwahamana and Mahi Beamer

» A tribute to Hawaii's music over the years with Pali, Danny Couch, Randy Lorenzo, Ernie Cruz Jr., Justin Young and Jake Shimabukuro

» Natural Vibrations

Mayor Mufi Hannemann will offer a musical tribute to the late Don Ho, and the house band will be Kata Maduli and the Bridge Boys, including DJ Pratt and Gary Poliahu of Kalapana.
But what if your bosses tell you to shop? Rarely is someone given the go-ahead, much less encouragement, to pleasure-shop on company time. But my editors had a mission in mind: Check out the sites and sounds in the tourist district known as Waikiki Beach Walk, and see if the celebrated $535 million dollar shop/hotel/eatery complex is drawing key crowds from Waikiki and beyond.
With that bit of urging, my inner teenager took over and I headed for the section of Waikiki where Lewers and Beach Walk meet Kalakaua Avenue.
WITH PARKING spaces at a premium, I slid into valet service at the Embassy Suites -- taking in the construction trucks churning up dirt at the nearby future home of Trump International Hotel and Tower. (Four hours of valet parking is $5 with validation at area shops.) Other resorts on the Beach Walk stretch include the boutique hotel Ohana Waikiki Islander Waikiki, Outrigger Reef on the Beach and the timeshare resort Wyndham Vacation Ownership.
Phase 1 of Waikiki Beach Walk is considered "100 percent complete," said Nancy Daniels, public relations manager for Outrigger Enterprises. Phase 2 closes in 2009 with the completion of the Trump Tower, expected to stand 350 feet tall. After a grand opening in January, most stores opened in the first four months of 2007. Freaky Tiki Tropical Optical was the first to turn on its lights, on Dec. 7.
A few stores have yet to put up signs, as a smattering of shoppers float in and out of the 40 shops, galleries and eateries along Beach Walk. Though foot traffic has increased since December, the volume of shoppers falls short of stores along Kalakaua Avenue.
"In the beginning, I was worried about the lack of traffic," said Simon Foo, owner of the watch store MP Collections. "But it's better than expected. People have been coming in. The tourists are coming in since we opened in April."
"There's a misconception that Waikiki Beach Walk is upscale, and it's not," said Daniels, ticking off consumer-friendly boutiques such as Malibu Shirts and the surf-and-skate-wear shop Alter Ego.
Jewelry stores in the nearly 8 acres of redeveloped area include Island Pearls, Maui Divers Jewelry and King Jewelry. Other options include resort-wear shops Blue Ginger and Oasis Lifestyle and upscale-accessories store Folli Follie.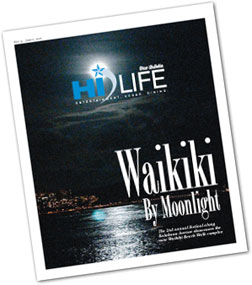 Among unique offerings is Mana Hawaii, the locally owned and operated retail store on the second floor of the complex. Five area businesses -- Hawaiian Traders, the Lomi Shop Va'a, Native Books, Ukulele House and Na Mea Hawaii -- have combined to form the heart of the retail store, which sells work by area artists and producers.
But it's the restaurants that have been lauded for pulling residents into Waikiki. Lines form early at Roy's Waikiki and Ruth's Chris Steak House on Friday and Saturday evenings. Though shops on Beach Walk are typically open from 9 a.m. to 10 p.m. daily, these restaurants stay open until midnight or later.
Of the restaurants catching my eye, only the Yard House is open at noon on a Friday. (Farther down are Molokai Grill, Taormina Sicilian Cuisine and the newest kid on the block, the New York-styled deli Giovanni Pastrami; Kai-Wa is weeks away from opening.) A mix of customers in aloha casual wear and T-shirts and shorts are seated at the bar and in the deep booths lining the windows of the casual restaurant, which opened to much fanfare the day after Valentine's.
While new to Honolulu, the Yard House is a familiar sight in Southern California. Owned by former Kailua resident Steele Platt, it bears as its signature more than 135 types of draft beer and platters of American-style cuisine. Staples on the menu include ginger-infused salmon and the requisite salads, steaks, ribs and chops.
Server Shawn Shelton said the rather quiet scene on Friday was the calm before the storm. "With summer coming, we're waiting for the large families to come in. It's a no-brainer that Roy's and Ruth's Chris are going to do well, but we were wondering about competition from Giovanni's."
Lighter Beach Walk offerings include two food-service outlets under the Sullivan Family of Companies, Beard Papa's and Coffee Bean & Tea Leaf; the European-style dessert shop Mondo Gelato provides an alternative to ice cream.
While the area has been commended for its facelift, some return vacationers wax nostalgic for the budget-friendly area it used to be, and the dilapidated landmarks that once existed in the little corner of Waikiki.
"It's definitely nice and cleaner," said San Diego resident Robin Rains, who was relaxing outside Mondo Gelato with her husband, George. "It's glitzy. But we used to come and listen to Hawaiian music and have a couple of drinks, and those places are gone. I wonder where people on a budget, families with four or six or more, are going to stay. ... It's good and bad. Like everything else."