| | |
| --- | --- |
| | Island Mele |
---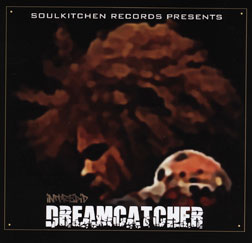 Dreamcatcher
iNTREPiD
(SoulKitchen SKRCD001)
iNTREPiD is also known professionally as Jonathan Clarke Sypert, and his combined résumé includes impressive work as an actor, dancer, rapper and performance poet. He is also a loving father and an active member of his church. All these things come into play on his musical debut, a self-produced album of what he describes as "positive hip-hop music."
The rapper writes from his life. The opener "This Track" has references to his childhood experiences being raised "at Ala Moana Center Stage," and developing the skill to "grab this mike and talk about anything, or nothing at all." He invites listeners to "jump on the culture train." Looking outward to the mainland and beyond, he says it's time to "take back the music."
More importantly, however, "This Track" shows that iNTREPiD knows how to assemble world-class hip-hop tracks. The track rocks, the lyric images are memorable, and the beats are irresistible.
iNTREPiD is also consistently on point as a lyricist. The title track puts forth an empowering message about the importance of daring to dream and perhaps tempering those dreams with a reality check. It is one of several songs with oblique religious themes -- spirituality percolates through it, but the man avoids proselytizing.
He uses a similar approach with "Tonight." The song can be interpreted as an account of his days as a ladies' man on the club scene, but it could also be a parable about the importance of self-confidence in any situation.
iNTREPiD displays his talents as a poetic storyteller with "Indelible Delilah (Chapter 4)," the cryptic tale of a female graffiti artist apparently betrayed by her boyfriend while she spray paints a red-white-and-blue politically charged "love letter" on the State Capitol, all the while dodging "insults and gunfire." iNTREPiD's delivery makes for some powerful theater-of-the-mind and a promising premise for development as a film or a graphic novel.
iNTREPiD's concise liner notes completes the project with brief explanations for each selection.
---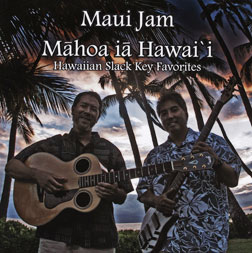 Mahoa ia Hawai'i
Maui Jam
(Maui Jam MJR001)
Slack key guitarist Al Nip and bassist Jon Toda are the core members of this Valley Isle-based ensemble. With the addition of Fulton Tashombe on piano, Geronimo Valdriz on steel guitar, and Fea-B-Lei Alcomidras joining Nip and Toda on vocals, and Maui Jam expands into a quintet that plays Hawaiian standards in that nahenahe (sweet, melodious) style.
The opening bars of "Ka Makani Ka'ili Aloha" suffice to establish Nip's ki ho'alu credentials, while the discrete presence of Valdriz's steel guitar provides reassurance that the members of Maui Jam are traditionalists through and through.
Valdriz is featured more prominently on "Hi'ilawe," but his solo maintains the nahenahe feel of the arrangement. He's also an asset on "Nani No 'O Koali," and adds to the dreamy ambiance of "Hula o Makee." All in all, there's enough steel guitar here to make the album of interest to aficionados of that particular instrument.
While Tashombe is heard less often, he, too, makes welcome contributions to several beautiful arrangements. His piano defines the beautiful melodic line of "E Ku'u Morning Dew," and provides similarly welcome melodic embellishments to a soothing and romantic arrangement of "Wahine 'Ilikea."
The beauty of his piano can also be heard on "Iesu Me Ke Kanaka Waiwai" and "Ua Mau," and Tashombe joins the others on "Hawai'i Aloha," as Maui Jam closes this soft and sweet album on a gentle yet patriotic note.
John Berger
, who has covered the local entertainment scene since 1972, writes reviews of recordings produced by Hawaii artists. See the Star-Bulletin's Today section on Fridays for the latest reviews. Reach John Berger at
jberger@starbulletin.com
.