Bring those scratchy '80s LPs to scratch at picnic
AFTER CELEBRATING his 40th birthday two weeks ago, it appears
James Coles
is not done bringing the old school back.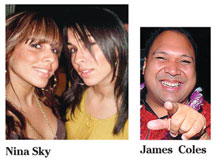 Part of the fun at Lily Koi Restaurant and Lounge on May 11 was the music being played by special guest DJs.
Guys like Jimmy Taco and Kutmaster Spaz took the crowd on a journey back to the '80s, with Coles himself jumping on the decks at one point to show he still hasn't lost it.
This weekend, it's all about the summertime hibachi session. Remember when the extended family used to pack everything (and everybody!) up and head for the beach?
On Sunday, visit Ala Moana Beach Park between 9 a.m. and 5 p.m. for the "2007 Old School Reunion Hawaiian Hip-Hop Picnic." Coles and his United DJs crew will provide the sound system, and everyone is invited to bring some vinyl and take advantage of open turntables all afternoon long.
The only catch? You must play '80s music and nothing else. Call 545-3773 for more information ...
OVER AT Farrington High School on Friday, local teens will show that one of hip-hop's cornerstone activities remains alive and well in the islands.
B-boying has been popular here for decades and recently enjoyed a resurgence in popularity among the younger generation, thanks to the efforts of groups like Funky4Corners. "The Takeover" is a collaboration between Archangel Events, GenuineHI, Prototype, Xprmnt and the Lightsleepers, an all-ages event that will feature a 3-on-3 B-boy battle, MC and DJ battles and even a black book battle.
Doors open at 5 p.m. Friday, with the Audible Lab Rats' Nomadd serving as host and DJs Skid, Kavet the Catalyst, Abe.One and Cozy manning the turntables. Ten bucks gets you into this one ...
I'M NOT sure if KFVE baseball analyst Pal Eldridge was supposed to say anything about it, but I heard something interesting while watching the University of Hawaii baseball game on Sunday. Apparently, Aerosmith has been signed to appear at Les Murakami Stadium in October as part of a private event hosted by Toyota ... National recording artist Lloyd has been announced as another featured performer at this year's 50th State Fair. He'll perform June 21 and 22, the weekend after Omarion makes his appearance ... Radio station 102.7 Da Bomb presents Nina Sky at Fashion 45 on Sunday. They also plan to bring Collie Buddz, Ini Kamoze and Tribal Seeds to Pipeline on June 30 ...
MORE PICKS: Check out the "Pink Party Pub Crawl" in Chinatown on Friday for a taste of the new Alize Rose liquor. One $10 cover gets you into Indigo, Bar 35, thirtyninehotel and NextDoor, and you can win prizes if you wear pink ... Also on Friday, Banq presents "Red Light Special" at the O Lounge with special guest hosts Chance and Real from the VH1 reality show "I Love New York." DJs Wizard, Mumbles, Gio and Rude Dogg will keep the party moving ... The Living Room gets down on Sunday with "iSpin," a special Memorial Day weekend party with 10 DJs in the mix and a special people's choice vote. DJs Lex 1, Compose, Delve, Jrama, SubZero, Zack, Technique, Mixmaster B, Paco and Stealth will vie for the title of "Favorite Living Room DJ" ...
THE START of summer means it's time for me to take a short break -- I'll be on vacation for the next few days.
"In the Mix" will return June 12, but be sure to check out "So Necessary" online for periodic nightlife updates while I'm gone ...