---
FAST FACTS HAWAII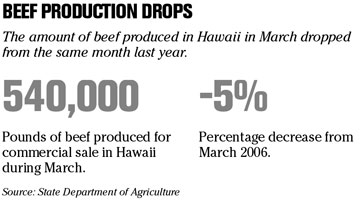 ---
[ HAWAII INC. ]
PROMOTIONS
» Bank of Hawaii has announced the following new promotions:
Brian L. Mau
has been promoted to vice president of the Keeaumoku branch from assistant vice president. He will continue his duties as branch manager, including oversight of branch sales and customer service operations and executing sales and service initiatives. He has served the bank since 1997.
David G. Takahashi
has been promoted to vice president of the Bankoh Investment Services Inc. division from assistant vice president. He will continue his duties as division sales coordinator, which include developing sales strategies for brokers and dealers, analyzing data and sales trends in accordance with corporate goals and maintaining databases for reporting and sales and revenue tracking. He has served the bank since 1994.
Rodney "Kimo" J.D.P. Wong
has been promoted to vice president of the Waikiki Business Banking Center branch from assistant vice president. He will continue his duties as business banking manager, which include managing a portfolio of small business clients, supervising a team of business banking officers to meet market goals, implementing sales plans and maintaining positive client relationships. HE has served the bank since 2002.
» Marriott International Inc. has named Kevin Aucello as vice president of development for the Hawaii region. He will be responsible for strategic development of the Marriott International brand of hotels and resorts in Hawaii. He previously served as a principal in the Coldwell Banker Richard Ellis Honolulu office and as a director of CBRE's international hotel practice. He has more than 25 years of experience in providing advisory services for companies with equity, debt and leasehold real-estate interests in Hawaii, Guam and Micronesia.
BOARD ELECTIONS
» Kahala Senior Living Community Inc. has announced its new officers and board members: Joining chairman and president
Joyce Timpson
and treasurer
Gregg Robertson
are
Wendell Brooks Jr.
as vice chairman and vice president and
Philip H. Ching
as secretary. New board members are
Lynette Kagihara
and
Roy King Jr.
Other board members include
Charles O. Swanson
,
Charles Kelley
,
Relda Loomis
and
Laura Thompson
.
AWARDS
» The Honolulu Committee on Aging has honored
First Insurance Co.
with the Lei Hulu Elder Friendly business award for its outstanding volunteer program with Hawaii Meals on Wheels Inc. The committee bestows the award each year to recognize a business's exemplary performance with the community's elderly population.
---
Facebook opens to companies
SAN FRANCISCO »
Facebook Inc.
is encouraging other companies to sell products and create software for use on the popular social networking site, hoping to expand into an all-purpose destination on the Web.
The company's 23-year-old founder and chief executive, Mark Zuckerberg, said yesterday the move was similar to what Microsoft Corp. did decades ago, when the relatively obscure software maker began encouraging third-party companies to write programs for its personal computer operating system.
The Palo Alto-based startup has so far recruited about 65 companies to create software for the Facebook Platform, which was to be opened up to any company starting last night.
The best known third-party contributor so far is e-commerce powerhouse Amazon.com Inc., which is allowing Facebook members to publish book reviews on their profile pages. The feature will debut later this week.
Discounting hurts Barnes & Noble
NEW YORK »
Barnes & Noble Inc.
, the largest U.S. bookseller, said yesterday it lost money in its first quarter, hurt by increased discounts for its members. But strong sales of new releases pushed revenue upward.
The loss for the quarter ended May 5 totaled $1.6 million, or 3 cents per share, versus a profit of $10 million, or 14 cents per share, a year ago.
Excluding a 6-cent per share charge related to closing an Internet distribution center and 7 cents per share in expenses associated with a review of its stock-option practices, income was 10 cents per share.
Revenue rose 3 percent to $1.15 billion from $1.11 billion last year.
Analysts polled by Thomson Financial expected earnings of a penny per share on revenue of $1.14 billion.
Mortgage rates at 7-month high
WASHINGTON » Rates on 30-year mortgages jumped to the highest level in seven months as hopes diminished for Federal Reserve rate cuts any time soon.
Mortgage giant Freddie Mac reported yesterday that 30-year, fixed-rate mortgages averaged 6.37 percent nationwide this week, up from 6.21 percent last week. It was the highest level for 30-year mortgages since they averaged 6.40 percent the week of Oct. 26.
Rates on 15-year, fixed-rate mortgages, a popular choice for refinancing, rose to 6.06 percent this week, up from 5.92 percent last week.
Five-year adjustable-rate mortgages averaged 6.02 percent this week, up from 5.92 percent last week. One-year adjustable rate mortgages rose to 5.64 percent, up from 5.48 percent last week.
Sony shows flexible TV display
TOKYO » In the race for ever-thinner displays for TVs, cell phones and other gadgets, Sony may have developed one to beat them all -- a razor-thin display that bends like paper while showing full-color video.
Sony Corp. posted video of the new display on its Web page today. The display is being held up by a hand that's squeezing the 0.3 millimeter-thick (0.01 inch) display, while showing color video of a bicyclist stuntman, picturesque lake and other images.
Sony will present the research and video at an academic symposium in Long Beach, Calif., for the Society for Information Display this week, the company said.
Sony said plans for a commercial product using the technology were still undecided.
---
BUSINESS PULSE