Underground jewelry ready for its closeup
With pirate mania in full swing with the opening of "The Pirates of the Caribbean: At World's End," this week, timing couldn't be better for the opening of Loree Rodkin's first American flagship store at Ala Moana Center.
Rodkin counts main pirate Johnny Depp, aka Capt. Jack Sparrow, among her vast showbiz clientele representing a who's who of A-listers, industry veterans and young Hollywood -- everyone from Madonna, Cher, Sir Elton John, Barbra Streisand, Sean Combs, Mary J. Blige, Motley Crüe drummer Tommy Lee and Aerosmith's Steven Tyler, to Scarlett Johansson, Kate Hudson, Charlize Theron and Hilary Duff. The whole list would, seriously, fill this page.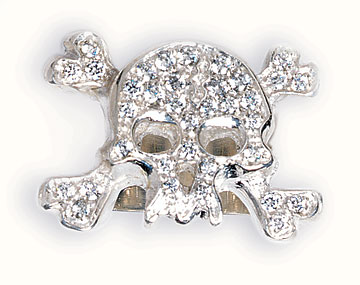 COURTESY LOREE RODKIN
This sterling silver skull pendant is $425. They start at $150.
CLICK FOR LARGE
"I've known Johnny forever. He has one of my gold and sapphire rings, and come to think of it, he has one of my skull rings," Rodkin said by phone from her home in Los Angeles. "He's been a client of mine since I started making jewelry, back when he was with Winona (Ryder) and he used to buy earrings and necklaces for her."
That was another lifetime ago for the designer, who today is noted for her distinctive jewelry, marked by a modern-meets-medieval Gothic sensibility that includes skulls and crossbones, architectural elements, fleur-de-lis, Celtic crosses and other such iconography.
Her silver collection starts with skull-and-crossbone pendants priced at an affordable $150. Those who gravitate to gold, platinum and diamonds can check out necklaces, bracelets and rings closer to the price of an automobile. Pieces are unisex, though crosses and skulls come in several sizes to suit demure to out-sized personalities.
Rodkin started designing jewelry when she was 13. She invariably hated the pieces her mother bought for her, so her mom told her "If you don't like it, just make it yourself."
She found a career as a designer-slash- entertainment manager representing up-and- comers like Brad Pitt, Robert Downey Jr., Virginia Madsen, Billy Zane, and many others.
Finding her way back to jewelry, she said, was a reaction to Downey's drug problems.
"I had to rescue him whenever he was misbehaving and jewelry-making was my way of staying sane."
She perfected her craft shortly after designing Rod Stewart's home, which involved shopping an estate sale, where she picked up several Cartier clocks and pieces of Cartier jewelry. In the process of having them repaired, she sat with jeweler Ben Besbeck, working and learning at his side.
"I always liked vintage jewelry. I collected Gothic furniture and was so mesmerized by Art Deco, anything ornate. I liked the romanticism of the imagery. I spent a lot of time traveling through Europe and being inspired."
When she started making jewelry, she said there was no fine jeweler designing skulls or heraldic jewelry, but her rock and movie star friends embraced her work immediately. She formally launched her business in 1989 and has watched, with some amusement, as her "bad boy jewelry for girls" has found its way into the mainstream in the last few years.
"I never thought this would happen," she said. "I always thought it would stay underground. 'Pirates' escalated it, but it was already a trend. Clothing designers saw what I was doing and followed, but when you start seeing skulls in Sears, you know it's time to start doing something else."
What that something else is, she doesn't know yet, feeling comfortable enough to let her muse take her where it will.
"I don't have a five-year plan, I don't have a five-minute plan. It's wherever my jewelry takes me."
Having started a perfume and candle line, she is entertaining thoughts about entering the beauty field and is currently in a Zen kind of mood.
Rodkin was instrumental in giving Cher's contemporary home a Gothic style makeover, and having just completed a Zen home, says Cher "now says she wants a Zen home too."
"I'm into Buddhism, I'm kind of an oxymoron. I have very eclectic taste."
One thing she's certain about is that she never wants to go back to managing showbiz careers.
"The whole industry dynamic has changed. Back then I had my niche. It was still fun," she said. "I'm creative at heart. Designing acting careers is creative, but I'd rather they be my friends. I like designing inanimate objects."