WIE TO PLAY IN DEERE CLASSIC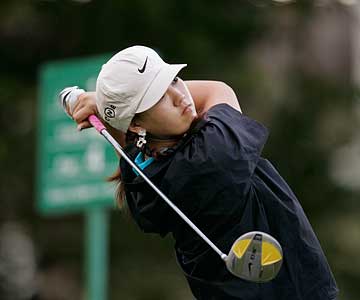 Wie in PGA Deere Classic
EAST MOLINE, Ill. » Michelle Wie accepted a sponsor's exemption yesterday to play in the John Deere Classic for the third straight year, continuing her effort to make the cut in a men's event.
Wie, who will graduate from Punahou School next week, has not made the cut in six starts on the PGA Tour. A year ago at the John Deere Classic, she opened with a 77 and withdrew in the middle of the second round with heat exhaustion.
The John Deere Classic will be played July 12-15 at TPC Deere Run.
"She is a wonderful talent who attracts a tremendous amount of interest among traditional and nontraditional golf fans, which helps broaden the game's appeal, especially among young people," tournament director Clair Peterson said. "She brings what you want in a sponsor's exemption.
"People will come out to the event who wouldn't otherwise. In her case, it's the casual golf fan; it's the young person, children, kids taking up the game; it's women and girls who watch Michelle and think this isn't necessarily a guy's sport and I want to go see this teenager play at a very high level. Men and women, who might not know many of the 156 names in the field, but certainly know who she is and want to see her first-hand. And it brings out the serious golf fan, because this might be a history-making week."
Wie has not played since missing the cut by 14 shots at the Sony Open in January. She played that week with an injured right wrist, then injured her left wrist a short time later when she fell while running.
She is to play her first LPGA Tour event of the year next week at the Ginn Tribute in South Carolina.
Skepticism about Wie's scheduling increased late last year when she finished last in consecutive weeks on the European Tour and the PGA Tour, and was next to last at the Casio World Open in Japan. She has failed to break 70 in her last 16 rounds, including two LPGA Tour events.
The John Deere Classic is where she had her best chance to make the cut on the PGA Tour. Two years ago, she was one shot above the cut line until making a double bogey on her 15th hole and a bogey on the 16th to miss the cut by two shots.
"I am really happy to be returning to the John Deere Classic," Wie said. "The people of the Quad Cities have supported me and rooted for me like no other."