---
FAST FACTS HAWAII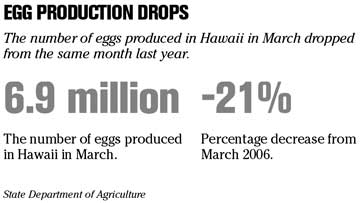 ---
Isle broadcasts get regional Emmys
Hawaii television work has won six Emmy Awards from the San Francisco/Northern California chapter of the National Academy of Television Arts and Sciences.
"Whale Science," a KITV production by reporter Garrett Sprinkle and videographer Sonny Ahuna won one of two awards in the feature news report, light series sub-category, in news programming.
In the news and program specialty category, "Fishbowl," produced by Linda Barry and Eleanor Nakama-Mitsunaga, and written, directed and co-produced by the late Kayo Hatta, won for historical/cultural program or special. It aired on KHET-TV.
"True Warrior," by writer and reporter Steve Uyehara, photographer Mike Cherry and editor John Allen III, won the sports-feature or segment award.
The lion's share of Hawaii awards were in the craft achievement category. Pamela Young won a writing award for "The Search for Shangri-La," on KITV; KGMB's Richard Pike won a news photography award for composite of work; and Ken Martinez Burgmaier, audio engineer and principal of Maui-based Jazz Alley TV Inc., won for the audio in "Kiho'Alu (Loosen the Key)" on KHET, featuring recording artist Keola Beamer.
---
Alcan board rejects Alcoa's bid
PITTSBURGH »
Alcan Inc.
rebuffed a hostile takeover bid by aluminum competitor
Alcoa Inc.
, dismissing the $27 billion offer as inadequate. But analysts say the move was expected and is likely part of a plan to fetch a sweeter deal.
"It's a little like a mating dance, and the whole idea is to eventually get a better price," said Charles Bradford, an industry analyst with Bradford Research/Soliel Securities in New York.
Alcan's board recommended to shareholders yesterday that they reject Alcoa's May 7 bid because it fell short of the company's value and is not in the best interests of investors, Chairman Yves Fortier said in a statement.
Alcoa spokesman Kevin Lowery said his company, based in Pittsburgh with executive offices in New York, was reviewing Alcan's lengthy response.
Oaktree Capital in Macau project
MACAU »
Oaktree Capital Management LLC
, a Los Angeles-based investment firm with $40 billion in assets, will join a Hong Kong developer to build apartment towers in Macau, the world's biggest gaming hub.
The project will cost between HK$2.5 billion ($320 million) and HK$3 billion, said Patrick Wong, chief executive officer of Tenacity Real Estate Group Ltd., in an interview yesterday. Wong declined to specify how much each partner would invest.
The investment would be the second in Macau by Oaktree, parent company of Kuilima Resort Co., which owns Turtle Bay Resort in Hawaii. Oaktree is among U.S. investors that hold a stake in Macau Studio City, a project consisting of theater, television and film production facilities on the city's Cotai Strip.
The project between Oaktree and Tenacity consists of two apartment towers to be built near Nam Van Lake on the Macau Peninsula, including 300 luxury units. Sales will begin next year, with completion scheduled in 2009, Wong said.
---
BUSINESS PULSE