Crash victim was newlywed
Kevin Curran, whose car went off a cliff on Maui, was a lawyer and entrepreneur
Kevin P. Curran and Jill Curran fell in love during a trip to Oahu in 2005 and wanted to cherish that moment by spending their honeymoon in Hawaii.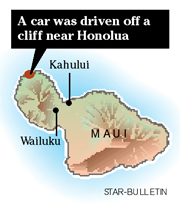 The couple married May 5 in Eureka Springs, Ark., chosen for its popularity as a wedding location, and arrived on Maui on May 13.
"I have not slept since yesterday morning," said Jill Curran on the phone from the Lahaina Shores Beach Resort on Maui. "He's the best person in the whole world. He was my best friend."
Curran, 42, of Ozark, Mo., died Saturday after the rental car he was driving plunged 140 feet off a West Maui cliff into the ocean. He would have been 43 this Thursday.
Maui police reported that Curran was driving a 2006 Ford Mustang southbound on Honoapiilani Highway in West Maui when the car ran off the road during a left turn and landed in the ocean 140 feet below.
Curran was thrown from the car and found on the shoreline, according to police. A witness called police at about noon after seeing Curran's car underwater near Honolua Bay, a popular diving and snorkeling spot that is part of the Mokuleia Bay Marine Life Conservation District.
Officials pronounced Curran dead that afternoon at Maui Memorial Medical Center.
Kevin and Jill Curran, 43, surfed, snorkeled and took a helicopter tour during their honeymoon, which was supposed to last until Wednesday. They had been dating about three years and visited Oahu two years ago.
On the day of the crash, Jill Curran left the hotel to pick up lunch. She returned at about 1 p.m. when police arrived and said that her husband, who she believes was exploring the island by car, died in a car accident.
Curran, who has experience working years as a surgical technician, hoped her husband could be revived.
"I'm in shock," she said. "I don't understand what happened."
Kevin Curran worked as a family lawyer for 17 years, helping abused children, his widow said, adding, "He was a guardian for abused kids. Most of the work he did for free."
In 2004, Curran, a surfing fan, stopped practicing law and started an online company at www.balance360.com, selling a training device he developed for surfers or for people in physical therapy.
Curran was also a real estate developer, building a subdivision in Ozark. He served in the Navy for six years and studied law at Emory University School of Law, his wife said.
"It didn't matter who, he just took care of everybody," Curran said. "I felt so lucky. I can't believe my boy's gone."
Survivors include two daughters, age 13 and 16; parents; two brothers; two sisters; and several nieces and nephews.
Curran's brother Robert arrived in Maui from Missouri yesterday to comfort Jill Curran, who had been alone since the crash.
Curran will be cremated today and brought back to Missouri tomorrow.