Gunfire kills man in front of family
William Ching says he is proud that his son, 30, died trying to protect his family
Police interviewed witnesses yesterday as they searched for a gunman who fatally shot a 30-year-old Sunset Beach man on Saturday.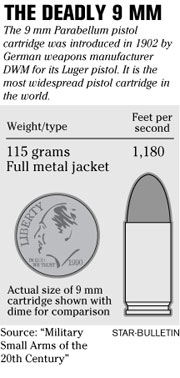 Close on the heels of a fatal shooting last week in Kaneohe, the death on the North Shore underscored the mounting toll of 9 mm handguns.
Dillon Ching died late Saturday night after being shot during an argument that erupted between his family and beach partyers across the street from his home.
During a fight that involved about 40 people, someone fired shots into the crowd, and two rounds struck Ching in the chest. His family watched him die in the driveway.
Witnesses said Ching was only trying to keep his wife and 3-year-old son safe and was not involved in the fracas.
"He died protecting his family," said his father, William Ching, 64. "He is the most beautiful person I've ever known, and I'm going to suffer forever because of this."
Ching's slaying is the second on Oahu in less than a week. Last week, a 27-year-old California man was gunned down in Kaneohe. Two suspects have been charged in the case, while a third remains at large.
---
Hours after seeing his son shot dead and bleeding on his driveway, William Ching needed a drink to help map out his grief and anger.
Firearms' Grim Toll
The state's worst mass shooting occurred in 1999 when Byran Uyesugi gunned down seven Xerox co-workers in offices on Nimitz Highway. He used a 9 mm handgun in the killings, for which he is currently serving life without parole.

Here are some more recent cases, many involving high-velocity 9 mm rounds.

» May 14: Benjamin Grajeda, 27, was shot multiple times on Kaneohe Bay Drive. A 9 mm gun was used in the incident. Two suspects, including the alleged shooter, 26-year-old Jerrico Lindsey, were arrested and charged, while a third suspect remains at large.

» May 3: A 43-year-old man was wounded outside his Kula, Maui, residence. The shooting resulted in a police standoff. Mark Alan Martins, 53, was arrested and charged with attempted murder. A 9 mm gun was used.

» March 24: Jason Sylva, 28, was shot after a gunfight at a Makaha home. Keith Kuraoka, the 55-year-old resident, was arrested on suspicion of second-degree murder but has been charged with firearm and meth-trafficking offenses by federal authorities in relation to the incident. The gunfight was the result of a botched robbery, police said. A shotgun was used.

» Feb. 10: Daniel Browne-Sanchez, a 27-year-old deputy sheriff, was off duty when he was shot at Osake Sushi Bar and Lounge. Patrick Lorenzo Jr., 32, faces murder and attempted-murder charges in connection with the incident. Police did not release information on the type of gun used.

» July 6: Manh Nguyen and Jason and Colleen Takamori were shot and killed during a robbery at a Round Top Drive lookout. Adam Mau-Goffredo faces several murder charges. He was found with a .45-caliber magazine in his pocket.

» July 3: Joel Norva, 36, shot and killed his ex-wife, Yolanda Crawford, and critically wounded her daughter before killing himself with a 9 mm gun in Waipahu.

» July 1: Daniel Truelove, 24, was gunned down on Nuuanu Avenue after an argument between a pimp and a prostitute. Police found 9 mm casings at the scene. No suspects have been arrested.
His 30-year-old son, Dillon Ching, was shot twice Saturday during a late-night fracas near Sunset Beach that involved dozens of people, including his family.
Police had yet to arrest a suspect as of last night. Lt. Bill Kato of the Honolulu Police Department homicide division said several witnesses were being interviewed.
Officers from the Scientific Investigation Section were at the scene until about 11 a.m. yesterday. Police think a 9 mm handgun was used in the killing.
While awaiting word of an arrest, one of Ching's brothers sat in the back of the home, crying to himself while petting the family pup. The 64-year-old father sipped a beer between his smiles and cries, thinking about his late son.
"I'm totally confused. I want to sell all this," he said of the property that he has owned and lived on for half his life. "Now, whenever I come home to my family, I will always see my son bleeding on my driveway."
Shortly before midnight, Ching's family had a small gathering at their home on Kamehameha Highway while another group of about 40 people partied on the beach.
An argument between the two groups erupted into violence. The killer, armed with a handgun, emerged somewhere from the crowd and fired an undetermined amount of shots into the air and crowd, police said.
Dillon Ching was struck twice. His older brother Billy Jack was beaten with baseball bats. Their father emerged from his home also wielding a bat. He dropped the bat, and said his heart sank when he found his son bleeding in the grass in front of his house.
This was the second shooting murder case in less than a week. Last Monday, 27-year-old Benjamin Grajeda of California was shot multiple times on Kaneohe Bay Drive. Two suspects have been arrested in connection with the case.
Friends and family of Dillon Ching gathered at the home-turned-crime scene yesterday morning. Billy Jack was treated for his wounds and released.
"I raised these boys by myself," the father said, staring at his hands. "I celebrated Father's Day and Mother's Day with them."
Dillon Ching worked for Coordinated Wire Rope, a rigging supply and services company. When he was younger, he rode motorcycles with his father. Other times, they played pool or darts at home while talking story.
Looking at the bloodstains in the grass, William Ching's lips trembled, and he said his heart swelled with pride as he recalled his son's final act: ushering the family away from the violence.
"All he did was take his child, give him to his wife, pushed them away and he tried to leave everything alone, and then ... pop, pop," he said. "My son died, putting his family's life before his own. That makes me a very proud father."
Dillon Ching is survived by his father, brothers Billy Jack and T.Y., stepbrother Michael, wife Desiree, and 3-year-old son Isaiah.