Turnaround in jobless rate forecast to be temporary
Hawaii's jobless rate edged back down last month after three months on the rise.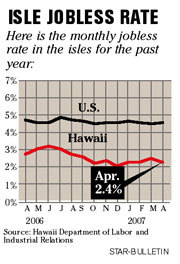 The April unemployment rate, 2.4 percent, put the state second lowest in the nation.
Hawaii had the No. 1 ranking in the country for seven straight months until March, including an all-time low of 2.0 percent, hit in December.
As in previous months, state officials pointed to continued strength in the local economy for the string of low monthly figures, although economists expect a slowdown later this year.
Last month, only Montana was lower, with a 2.2 percent unemployment rate. The national average was 4.5 percent.
Also, Hawaii's April figure remained less than the 2.6 percent rate of a year earlier.
---
Hawaii's unemployment rate showed signs of stabilizing last month, dipping to 2.4 percent after three straight increases from its all-time low.
The April figure -- down from 2.5 percent in March -- still left Hawaii short of reclaiming its previous distinction of having the lowest jobless rate in the nation, according to seasonally adjusted data released yesterday by the state Department of Labor and Industrial Relations.
Last month, the top honor went to Montana, despite its increase to 2.2 percent from 2.0 percent in March. Michigan had the highest rate for the month, 7.1 percent.
Hawaii, which lost the No. 1 distinction in March after seven months at the top, was second overall after overtaking Utah, whose jobless rate rose to 2.5 percent from 2.4 percent.
"We remain pleased that the state's strong economy continues to foster a job market that has kept the unemployment rate at an extremely low level and allowed a significant number of previously unemployed workers to find employment," Labor Department Director Nelson Befitel said.
In recent months, however, some local economists have been predicting a slowdown in the state's growth rate later this year that would send the jobless rate higher.
Hawaii's jobless rate, which hit an all-time low of 2.0 percent in December, is still below the 2.6 percent mark from a year earlier. It also beat the national jobless rate of 4.5 percent in April. The U.S. rate, previously announced, was up from 4.4 percent in March but down from 4.7 percent a year earlier.
The state Labor Department said the seasonally adjusted number of nonagricultural jobs fell in April to 621,300, down 3,500 from March but up 8,500 from April 2006. Officials attributed the drop, mainly in state government, to the intersession break in public education. In the private sector, areas posting the largest job growth from the year-earlier month were construction, and leisure and hospitality, each gaining 2,200 jobs. Private-sector education and health services rose by 1,800.
Overall, the number of people working in April fell by 1,900 from March to 637,500, and the number unemployed decreased by 300, to 15,800, from March. The state labor force fell by 2,200, to 653,250.
Individual island figures are calculated without seasonal adjustments. Oahu's jobless rate decreased to 2.3 percent from 2.5 percent in the year-earlier month; the Big Island fell to 3.0 percent from 3.1 percent; Kauai declined to 2.2 percent from 2.6 percent; and Maui dropped to 2.1 percent from 2.5 percent. Molokai jumped to 5.8 percent from 4.4 percent, and Lanai rose to 2.7 percent from 1.7 percent.