Shooting victim was felon with 3 aliases
Benjamin Grajeda's records also list four different birth dates
Benjamin Grajeda of California was found guilty of drug charges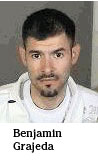 The victim in Monday's fatal shooting was a convicted felon, found guilty of two drug-related charges.
Benjamin Grajeda, 27, of North Hollywood, Calif., was arrested and convicted in 1999 for furnishing drugs without a prescription in California. He was arrested for years later for having a gun as an addict or a felon.
Grajeda used several aliases. In California he sometimes used the name Julian Castro. Fernando Correa was the name he used when he retained his Kaneohe apartment.
Grajeda also is known to have used four different birth dates in the nine times he was booked within Los Angeles County, according to the Los Angeles District Attorney's Office.
Grajeda was allegedly kidnapped from his Puuohalai Place apartment and dragged into a car. When he escaped on Kaneohe Bay Drive, he was shot several times. Two men -- Jerrico Lindsey and William Freeman -- are being held on $3 million bail each in the case. A third suspect remains at large.
Maui police are also assisting in the case. Lindsey previously lived on Maui.
---
In Kaneohe they called him Fernando Correa. In Los Angeles he was Julian Castro.
Monday's shooting victim in Kaneohe was a man with at least three different names and four different birth dates.
Benjamin Grajeda, 27, of North Hollywood, Calif., also was a felon convicted of drug-related charges in two different California counties.
He was gunned down Monday night on Kaneohe Bay Drive. A North Shore manhunt followed, with two men arrested and charged, and another suspect still at large.
Honolulu police worked for two days on confirming the victim's identity.
Grajeda's name was confirmed after police checked out several different aliases.
In April 2003 he was arrested in Malibu as 30-year-old Julian Castro. His real name was revealed during court proceedings that followed.
He pleaded no contest to possession of a firearm by a felon or addict. He was sentenced to 16 months in prison, according to files in the Malibu Courthouse of Los Angeles Superior Court.
The judge had recommended that he receive drug treatment while in custody. He also was booked on charges of receiving and concealing stolen property, carrying a concealed weapon and carrying a loaded firearm. Those charges were dismissed after Grajeda pleaded no contest to the possession charge.
He was convicted in December 1999 of transporting, selling, furnishing or giving away a controlled substance without a prescription in Tehama County.
During his 2003 arrest, he listed his birth date as Feb. 18, 1977.
According to the Los Angeles District Attorney's Office, he used four different birth dates on various bookings within the county.
He used July 18, 1975, once; Feb. 6, 1977, once; Feb. 18, 1977, twice; and Feb. 26, 1980, five times.
The city Medical Examiner's Office declined to confirm Grajeda's birth date, citing privacy reasons. The office has listed him as a 27-year-old man.
Grajeda was initially identified as Fernando Correa or Fernando Correa-Lua, a man in his 30s. Grajeda used the name Fernando Correa in applying for his apartment on Puuohalai Place in Kaneohe.
Neighbors said he had moved into the apartment about five weeks ago.
A woman who is the mother of Grajeda's child visited his Kaneohe apartment Thursday to gather some belongings. She has already flown back to California.
Jerrico Dewon Lindsey, 26, is charged with second-degree murder, firearm violations and first-degree terroristic threatening.
William Lee Freeman, 35, is charged with first-degree kidnapping and hindering prosecution.
Police have said Grajeda was abducted from his home following an argument and forced into a car. He later escaped from the car on Kaneohe Bay Drive and was gunned down by Lindsey, police said.
The suspects are scheduled for a preliminary hearing on Monday.
Maui police arrested a man Thursday considered a "person of interest" in connection with the shooting. Honolulu detectives questioned the man, but he is not the third suspect who remains at large, Maui police said yesterday. The man remained in custody last night at the Maui County Correctional Center.
---
Star-Bulletin reporter Leila Fujimori contributed to this report.