| | |
| --- | --- |
| | Island Mele |
---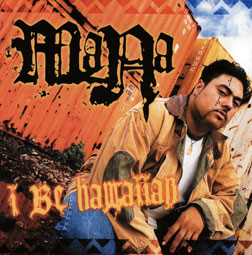 "I Be Hawaiian"
Mana
(Wayoutwest Enterprises)
The singer/songwriter made a memorable debut in 2001 with the hit "Couldn't Take the Mana." In it, he said that although native Hawaiians had lost nearly everything since the 1893 overthrow of the monarchy, their enemies couldn't take away spirituality.
Now Mana is back, and angrier and even more articulate as a lyricist, with powerful new insights on the interrelated issues of sovereignty, self-determination and Hawaiian nationalism.
With the help of "Radical Rob" Onekea, "I Be Hawaiian" is a welcome musical milestone in the evolution of mele ku'e (songs of resistance).
From the emotional opening of "War," and continuing through the title track and several subsequent songs, Mana denounces the status quo and calls on native Hawaiians to set aside their factional differences. It's time for Hawaiians to take individual responsibility for making things better. Get an education, he says, and get involved in the struggle.
Mana defends the Kamehameha Schools, speaks eloquently of the human cost of the ice epidemic ("Beauty Queen"), and indicts members of the local recording industry with "Mista Vagabond." But he also shows a softer side with a song about his parents, and two for his wife -- one that speaks of a spiritual love, the other about their sexual relationship.
Onekea's blending of reggae with elements of hip-hop and R&B enhances the impact of Mana's political manifesto and ensures that it will be heard and heeded.
---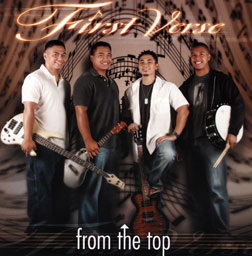 "From the Top"
First Verse
(First Verse Productions)
This young Jawaiian quintet has an edge on most other such acts, thanks to its sax player. Throw into the mix producer Dave Tucciarone, who provides backup on keyboards and electric guitar, and First Verse has a promising debut album that should be good for at least the minimum 15 minutes of fame on Hawaii's self-styled "island music" radio stations.
Group members Glenn Domingo and Allen Ubaldo share lead vocal duties, and their voices have an appealing and slightly vulnerable quality that should connect with the local girls.
Both guys also write. One of Domingo's contributions, "Satisfied," combines a catchy reggae-style rhythm with smooth, romantic lyrics in winning style. On "Season Love," Ubaldo deftly blends pop with Jawaiian, and is a showcase for his ukulele playing, as well.
Routine Jawaiian remakes, unfortunately, of two well-known pop ballads -- "All Out of Love" and "Sometimes When We Touch" -- add nothing of interest, but will likely appeal to listeners too young to remember the original versions.
---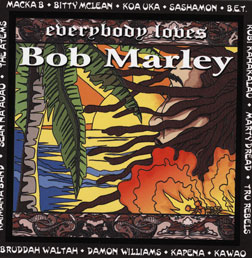 "Everybody Loves Bob Marley"
Various artists
(Neos Productions)
Yes, everybody does love Bob Marley, but no one has ever interpreted his music better than Marley himself. 'Nuff said! But give the producers of this project, Patti and Bob St. John, credit for assembling what may be, more or less, the first locally assembled compilation that honors the work of a popular songwriter.
(The qualifier comes due to the fact that a compilation consists of new recordings, and several here come from older releases.)
The theme is set with the opener "Bob," Macka B's popular posthumous tribute to Marley and his music. Next comes an assortment of recordings by local artists and others with personal ties to the Neos Productions label. It's surprisingly good work overall, and almost all the recordings can be fairly described as reggae rather than Jawaiian.
Bruddah Waltah's 1990 vintage recording of "No Woman No Cry," in which he took unfortunate liberties with the lyrics, is the one glaring exception. It would've fit better on another album entirely.
Also, why the couple put this project together in the first place isn't explained in the liner notes, nor is any information provided on the participating artists. That would have been a fascinating story.
John Berger
, who has covered the local entertainment scene since 1972, writes reviews of recordings produced by Hawaii artists. See the Star-Bulletin's Today section on Fridays for the latest reviews. Reach John Berger at
jberger@starbulletin.com
.