---
FAST FACTS HAWAII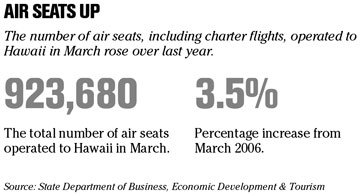 ---
Kona fish free of contaminants
Kona Blue Water Farms
announced yesterday test results from both an independent laboratory and the Food and Drug Administration confirmed their fish -- Kona Kampachi -- is free of melamine.
The aquaculture farm had suspended harvesting and sales last Thursday after being notified that minimal traces of melamine were found in a small percentage of feed provided by a company in Vancouver.
"We are pleased to reassure our customers that Kona Kampachi remains one of the healthiest and purest fish on the market," said Mike Wink, Kona Blue's CEO. "While we were confident our fish would test clean due to the minimal amount of tainted feed that was used, we took the precautionary step to shut down sales until we had proof that our Kona Kampachi continues to meet our highest standards of product purity and quality."
Kona Blue is resuming harvest and taking orders from distributors.
Official test results will be posted on Kona Blue's Web site upon receipt.
---
HP's profit beats estimates
SAN JOSE, Calif. »
Hewlett-Packard Co.
's second-quarter profit fell 7 percent despite a dramatic rise in personal computer and server sales, narrowly beating Wall Street's forecast.
The results are an indication that HP's effort to transform its personal computers from low-margin commodities into more stylish devices has started to pay off.
For the three months ended April 30, HP earned $1.78 billion, or 65 cents per share, compared with $1.9 billion, or 66 cents per share, in the same period last year.
Excluding one-time charges, HP's net income came in at $1.9 billion, or 70 cents per share.
Sales in the quarter leaped to $25.5 billion, a 13 percent jump from the $22.55 billion HP rang up in the same quarter last year. The increase was spurred partly by booming sales of laptop computers and servers.
Samir Bhavnani, research director of Current Analysis West, a market research firm based in San Diego, said Hewlett-Packard "was very wise in understanding that as the market shifts from desktops to notebooks, that style mattered."
Japan's economic growth slows
TOKYO » Japan's economy expanded for a ninth-straight quarter from January to March, at a 2.4 percent clip, but the pace of growth in the world's second-largest economy began to slow as companies cut investment amid jitters about a U.S. slowdown.
Compared to the previous quarter, the economy grew 0.6 percent, the Cabinet Office said today. If maintained for a full year, the economy would grow 2.4 percent, just below the 2.6 percent forecast by economists surveyed by Dow Jones Newswires.
While the increase marks the ninth straight quarter of growth, the pace slowed from a 5.5 percent annualized growth rate in the October-December period. That was the fastest growth rate logged by Japan in three years.
Japan has staged a recovery from more than a decade of economic stagnation, with help from strong exports and an increase in domestic consumption.
---
BUSINESS PULSE