---
FAST FACTS HAWAII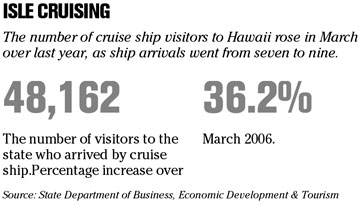 ---
Finance Factors expanding
Finance Factors
is going through the permitting process for a new branch in Manoa Marketplace.
Adding the Manoa Marketplace branch is part of a growth strategy that will bring the total number of branches for 55-year-old depository financial services loan company to 13 next year.
In January, it announced the purchase of a mixed-used building on Liliha Street that previously included Masu's Massive Plate Lunch among its tenants. The eatery closed at the end of February.
Both new branches are slated to open in the first quarter of next year.
In March, Finance Factors also moved its Kahala branch into a new site inside Kahala Mall. It will hold a grand-opening celebration on Friday through May 25.
Hawaiian, Korean Air in code-share
Hawaiian Airlines
and
Korean Air
have reached a code-share agreement that will enable the foreign carrier's passengers to make connections from Honolulu to Kauai, Maui and the Big Island, as well as the nine cities in the Western United States that Hawaiian serves. It also will allow connecting flights through Hawaiian for Korean Air passengers in returning to Asia.
The code share will allow Korean Air customers to purchase seats on Hawaiian's connecting flights.
Granite Mill acquires BDL Mill
Granite Mill
, an architectural millwork company in Salt Lake City, has acquired BDL Mill, thereby increasing its market presence on the west coast, including Hawaii.
BDL, which was founded in 1978, has operated in the same facility as Granite Mill for the last two years. BDL has worked on the famous Cliff House as well as the De Young Museum in San Francisco.
In Hawaii, BDL is working on the Hilo Judiciary complex, as well as the U.S. Forest Service Laboratories in Hilo. BDL has also done work on the Ala Moana Hotel and Lanikea at Waikiki.
Matson hires trans-Pacific director
Matson Navigation Co., bolstering its one-year-old China-Long Beach Express service, has hired John Lauer as director of trans-Pacific services.
Lauer, who has 20 years of sales experience, will lead Matson's U.S. sales efforts and will focus on trade lane yield management and revenue enhancement strategies in conjunction with other Matson operations. He has held several executive positions at APL, which under a 10-year alliance shared vessel deployments to Guam until that alliance ended last year.
Matson is a subsidiary of Honolulu-based Alexander & Baldwin Co.
Home Depot profit drops 29.5%
ATLANTA »
Home Depot Inc.
posted a 29.5 percent drop in first-quarter profit yesterday and warned the rest of the year will be challenging. The company also said it still hasn't decided the fate of its wholesale distribution arm three months after announcing it might shed the unit.
Home Depot said that for the three months ended April 29, it earned $1.05 billion, or 53 cents a share, compared with a profit of $1.48 billion, or 70 cents a share, in the same period a year ago. Analysts were expecting Home Depot earnings of 59 cents a share.
---
BUSINESS PULSE