---
FAST FACTS HAWAII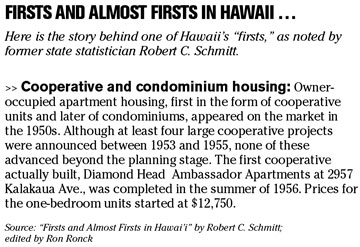 ---
How to build company camaraderie
If your boss told you to go jump off a cliff, you'd probably clean out your desk and start updating your resume.
But before you grab a cardboard box, better office rapport might be what your supervisor really wants.
Many companies are devising creative team-building exercises that reach far beyond the typical summer picnic and softball league, a recent survey found.
Among the activities reported were bungee jumping, cubicle decorating and navigating through a cornfield maze.
Wackier events included line dancing on the beach in matching outfits, hosting a dog show and designing and playing a miniature golf course, according to the telephone survey of 250 advertising and marketing executives.
Collecting input from employees about their interests and abilities, however, is critical before managers drag everyone away for a weekend of tackle football, said Dave Willmer of the Creative Group, a staffing service that conducted the survey.
"What may seem like a good idea to a team leader or a manager may not be to the team," he said.
Rapport-building activities should further the company's goals, such as going skydiving to encourage risk-taking on the job, Willmer said.
One company instructed workers to build a lifeboat and then kick people off it, one by unfortunate one.
Maybe updating your resume wasn't such a bad idea.
How much is your junk worth?
It's spring-cleaning time again, and you might just find some cash tucked inside your attic or stuffed underneath your bed.
While dollar bills probably aren't packed away with your Christmas tree lights, much of the clutter lying around your house can earn you some money.
According to a new eBay Inc. survey, more than 50 unused items worth about $3,000 are lying around the average American household.
Clothing accounted for more than half of the items, followed by electronics, accessories, computers and hardware, sporting goods, toys and furniture.
"If you haven't used it in a year or looked at it in a year, it's basically time to get rid of it," said Shawn Henderson, eBay's design director.
The majority of respondents consider donating or selling such items a form of recycling.
An added bonus: Close to half thought such recyclers were smarter and more attractive, the survey reported.
So hit up your neighborhood garage sale; you might pick up a date along with that Belgian waffle maker.
The survey was conducted online in March among 2,000 people, half of whom are eBay members.
---
BUSINESS PULSE