---
FAST FACTS HAWAII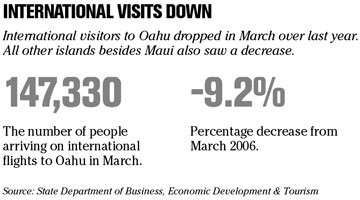 ---
Diocese buys Campbell land
The Roman Catholic Diocese of Honolulu has purchased 23 acres on the leeward side from the
Aina Nui Corp.
, an affiliate of the
James Campbell Co.
The $6 million purchase, which closed in April, is expected to be the site of the diocese's future church, school and gathering site.
Located next to the West Loch Golf Course at the junction of Old Fort Weaver and Fort Weaver Roads, the site is also expected to have 10 acres of parking, athletic fields and a multi-purpose meeting facility seating up to 2,000.
Construction and permitting are projected to take three to five years.
An estimated 56,000 Catholics are estimated to be living in Leeward Oahu today, with an additional 22,000 projected for the next 25 years, mostly in that region. As a result, the Catholic diocese is looking for additional land to purchase in Leeward Oahu.
Fewer flew Mesa's go! in April
Go!'s load factor fell in April from the previous month as it filled 62.8 percent of its seats, according to data released yesterday by parent
Mesa Air Group Inc.
There are no year-over-year comparable numbers because go! began service last June 9.
Go!'s load factor has remained in the low 60 percent range since January when it hit a bottom of 58.4 percent. Its best load factor was 82.5 percent in June 2006.
Go! attracted 55,647 passengers last month on its five 50-seat Bombardier CRJ-200 aircraft. Go! had an on-time arrival rate of 97.7 percent and had one cancellation. Its available seat miles, or total seats multiplied by the total number of miles flown, were 12.7 million while its revenue passenger miles, or the total miles flown by paying passengers, were 8 million.
---
CBOT bidding goes higher
CHICAGO »
Chicago Mercantile Exchange Holdings Inc.
sweetened its offer yesterday for the Chicago Board of Trade's parent company in an attempt to end a bidding war, bumping the bid up 16 percent to nearly $10 billion and pledging a hefty stock buyback if the deal goes through.
CBOT Holdings Inc., which operates the Board of Trade, swiftly deemed the bid superior to the unsolicited one by IntercontinentalExchange Holdings Inc., even though ICE's offer is still higher -- $10.5 billion versus $9.9 billion, based on yesterday's closing stock prices. It recommended that shareholders accept the revised bid from the Merc.
The counteroffer had been anticipated ever since Atlanta-based ICE launched its surprise effort in March, disrupting the plans announced five months earlier for the Mercantile Exchange to buy CBOT for about $8 billion.
Thomson preps for Reuters bid
HARTFORD, Conn. » The
Thomson Corp.
, which has proposed paying more than $17 billion for British financial news provider
Reuters Group PLC
, freed up cash yesterday by announcing that it agreed to sell education and publishing-related properties for $7.75 billion.
The agreement to sell Thomson Learning to two companies is seen as preparation for the company's blockbuster proposal to purchase Reuters. The deal, disclosed last week, would make Thomson-Reuters the world's leader in providing real-time data to traders and investment professionals.
Merger costs hit Alcatel-Lucent
PARIS » Telecommunications equipment maker
Alcatel-Lucent SA
posted a loss of 8 million euros ($10.8 million) for the first quarter yesterday due to effects from the merger that formed the company but promised a strong second half. Its shares rose more than 2 percent.
Since the trans-Altantic merger that created the company, it has posted two profit warnings while some rivals, including Ericsson AB, say they are winning market share.
---
BUSINESS PULSE