---
FAST FACTS HAWAII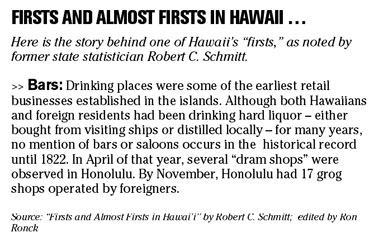 ---
NATION
Judge seeks $67M for lost pants
WASHINGTON » Roy Pearson has sued his dry cleaner for losing his pants in 2005, seeking damages of $67 million.
He asserts "mental suffering, inconvenience, and discomfort" in part because he had planned to wear the pants on his first day of work -- as an administrative law judge in Washington.
The store's owners, Jin and Soo Chung, say they have spent thousands of dollars defending themselves, and their credit rating has been damaged. Breaking down in tears, Soo Chung told ABC News: "I don't want to live here anymore. It's been so difficult. I just want to go home, go back to Korea." Pearson did not comment.
"People in America are now scared of each other," a legal specialist, Philip Howard, told ABC News. "That's why teachers won't put an arm around a crying child, and doctors order unnecessary tests and ministers won't meet with parishioners. It's a distrust of justice, and it's changing our culture."
Smart people not always rich
Take a look around the parking lot of your local university, and chances are you'll spot more Honda Civics than Rolls Royces. While professors tend to be a brainy bunch, they don't necessarily have the bank accounts to match.
And they're not the only eggheads strapped for cash. According to a new nationwide study, the highly intelligent among us aren't necessarily wealthier. While people with higher IQ scores tend to earn more, they don't always save and invest their money wisely, said study author Jay Zagorsky, a research scientist at Ohio State University.
"Individuals with higher IQ should not think that they have any particular advantage," he said.
People of below-average intelligence, meanwhile, are just about as wealthy as those in similar circumstances but with higher IQ scores, the study found.
Even among the smartest people, those with IQ scores above 125, 6 percent have maxed out their credit cards and 11 percent sometimes miss bill payments.
The study is based on data from more than 7,000 Americans who participated in the National Longitudinal Survey of Youth, which is funded primarily by the U.S. Bureau of Labor Statistics and conducted through Ohio State University.
Don't answer that e-mail!
You're sitting in a meeting, trying your best to give the boss your full attention, when you hear that little ping -- a new e-mail. The boss surely won't mind if you check it, right?
Wrong. While the majority of executives report that colleagues commonly read and respond to e-mail during meetings, many disapprove of it, according to research performed by Robert Half Management Resources.
Follow these tips to avoid ticking off the boss man, said executive director Paul McDonald:
» Be discreet. Set your mobile device on vibrate to avoid disturbing others.
» Consider your audience. Your co-workers might understand your need to respond to a message more than a client would.
» Respond only when necessary.
"If it's really urgent, then excuse yourself from the meeting. Then go outside the room," McDonald said.
» Know when to stop. Constantly checking e-mail can make your colleagues feel unimportant, so bow out of a meeting if you'll be distracted for most of it anyway.
Work is fertile place for infidelity
Whether it's the flattering fluorescent lighting or the intimate privacy of the office cubicle, the workplace is fertile ground for those with a wandering eye.
More than a third of people who admit to infidelity cheat on their spouse with a co-worker, according to a recent study conducted by MSNBC.com and iVillage.com. Friends were philanderers' first choice.
The survey also revealed that the more money men make, the more likely they are to cheat, said Josey Miller, iVillage love and sex senior editor.
For women, on the other hand, income had no relationship to their propensity to be unfaithful, she said.
Opinions about what behaviors constitute cheating also differed between the sexes. Nearly three-quarters of women consider sending flirtatious e-mails to a co-worker cheating, compared to just over half of men.
Regardless of who's right on that one, has all that sexual harassment training taught us nothing?
Back away from the send button.
More than 70,000 respondents participated in the survey, which was conducted online in February 2007.
---
BUSINESS PULSE