---
DYNAMO: BRIAN CHING
GETS HIS KICKS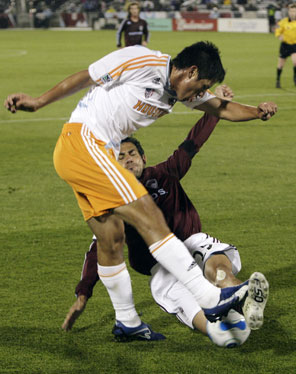 1 in, 1 out at Oxbow Longboard
ANGLET, France » Hawaii's Bonga Perkins remains in contention for the Oxbow Pro World Longboard title but the title run is over for fellow islander Keegan Edwards at Les Cavaliers.
Perkins, the 1996 world champion, won his Round 4 heat against Brazilian Eduardo Bage, 11.75-10-60, to advance to today's quarterfinals. Edwards also won his Round 4 heat against Brazilian Jamie Viudes, 9.90-7.20, but was eliminated by Brazilian Carlos Bahia, 11.75-7.50, in his quarterfinal before surfing was called off for the day.
» At Teahupoo, Tahiti, yesterday's competition at the Billabong Pro was called off due to small surf.
Fred Patacchia is the lone Hawaii surfer scheduled to compete in today's Round 2.
'Soap Day' at Honolulu QB meeting
Three members of the Hawaii football team are among the guest speakers at tomorrow's Honolulu Quarterback Club meeting, which has been dubbed "Soap Day" following the much-publicized criticism over facilities last week by Warrior quarterback Colt Brennan.
Club members are being asked to donate soap for the Warrior locker room when attending the weekly luncheon at the Pagoda Hotel.
The three players are linebacker Solomon Elimimian, lineman John Estes and wide receiver Jason Rivers. Carol Peebles, general manager of the Super Ferry, will speak on the impact that the ferry will have on inter-island travel for sports teams.
Lunch begins at 11:30 a.m., followed by the noon program.
HPU rolls past Chaminade in softball
Hawaii Pacific outhit Chaminade, 26-4, scoring eight runs in the first inning of both games, in sweeping a Pacific West Conference softball twinbill yesterday at Sea Warrior Field, 18-0 and 11-2.
Nicole Riviera and Danielle Young each drove in three runs for HPU in the five-inning opener. Sherise Musquiz and Clerisse Lemke combined on a two-hitter.
In the second game, the Silverswords (8-41) ended their drought when Kelli-Grace Saniatan scored on a fielder's choice in the top of the first. The Sea Warriors (34-14) quickly regained the lead with eight runs in the bottom of the inning, highlighted by a two-run triple from Ciera Senas and a two-run single by Nicole Kalakau.
Kamana'o featured at 2 clinics
Former Hawaii All-America setter Kanoe Kamana'o headlines two days of Competitive Sports Training volleyball clinics at the Farrington High School gym.
Open to both girls and boys, the cost is $50 for the setting clinic and $60 for the skills clinic. Check-in is 30 minutes prior to the start of each session.
The All Skills Clinic is May 26 with the sessions for 10- to 14-year-olds running from 11 a.m. until 1:30 p.m. The second session, for 15- to 18-year-olds is from 3 to 5:30 p.m.
The Just Setting Clinic is June 16. Session 1 (10-14 year-olds) runs from 12:30 to 2 p.m., Session 2 (15-18 year-olds) from 3:30 p.m. to 5 p.m.
For more information, call 375-6522 or e-mail cst808@yahoo.com.
Punahou dominates state tennis seeding
Punahou's dominance in tennis -- 38 boys team titles, 32 girls team titles -- continued yesterday when it came to seeding this week's 50th Carlsmith Ball/Hawaii High School Athletic Association State Championships in Maui.
The Buffanblu, looking for their 17th consecutive boys team champion, have three of the top four seeds in singles, led by No. 1 Skyler Tateishi, and three of the top five seeds in boys doubles, with half of last year's winning team (Alex Ching) paired with a new partner this year (Erik Shoji).
Punahou, winning the last six girls titles, has two of the top three singles seeds, including No. 1 Kristin Lim. Ashley Ohira, who teamed with Lim to win the doubles last year, is seeded first with new partner Nicole Nakaoka.
The tournament will be held on Maui at the Wailea Tennis Club, Makena Tennis Club and Kalama Park beginning at noon Wednesday. All finals and third-place matches are scheduled for 9 a.m. Saturday.