| | |
| --- | --- |
| | Newswatch |
---
SALE MARKS KILGO'S CLOSURE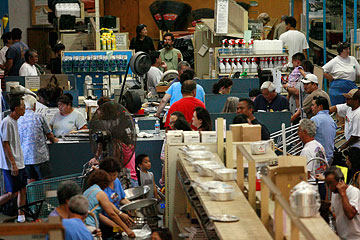 Tax cut for kuleana landowners
Owners of kuleana lands -- parcels awarded to native tenant farmers by the kingdom of Hawaii in 1850 -- will get a tax break beginning next year under a bill signed into law by Mayor Mufi Hannemann.
"It is important that we continue to be sensitive to the needs our native Hawaiian population," Hannemann said in a news release.
Kuleana landowners on residential- or agricultural-zoned properties would be exempt from paying all but the minimum annual tax of $100 if they can verify being a descendant of the original title holder. The city said genealogy verification by the Office of Hawaiian Affairs or court order will be accepted. The new ordinance takes effect July 1, 2008.
The Office of Hawaiian Affairs testified before the City Council that without the tax exemption, native Hawaiian kuleana landowners could be forced off their ancestral lands if their rising property tax bills become too much for them to pay.
The mayor said the city would work with OHA to implement the measure. The financial impact of the measure to the city is unknown because the number of parcels is unknown but OHA and city officials believe the number of qualified applicants will be limited.
UH education dean is named
The University of Hawaii at Manoa has named a new dean of the College of Education.
Christine K. Sorensen, the dean of the College of Education at Northern Illinois University, will start at UH-Manoa on Aug. 10.
The UH College of Education has more than 1,500 students and awards more than 500 degrees annually.
| | |
| --- | --- |
| | Police, Fire, Courts |
---
Kauai brush fire under control
KAUAI » Construction workers and Kauai firefighters battled a blaze in Kiahuna yesterday afternoon.
Firefighters from the Koloa and Lihue fire stations responded to a 1:30 p.m. alarm in brush located in the Poipu area of Kiahuna. Employees of Goodfellow Brothers and Kiewit Construction helped with water tankers and bulldozers.
The fire was brought under control at 1:45 p.m. Battalion Chief Theodore Williams attributed the speedy work to the collaboration. Williams said a cause is still under investigation, but advises residents to be aware of the current dry season.
---
NEIGHBOR ISLANDS
Police seek leads on missing man
Big Island police need help looking for a man missing since last week.
Charles F. Sasan, 48, was last seen April 27 at his parents' house on Kaiwiki Road in Kaiwiki.
He has no permanent address, but is known to frequent the Hilo area. He was last seen driving a 2000 Ford pickup, license plate HZR 617. The truck was recovered Tuesday in the upper Kaiwiki area, police said.
He is 5-foot-7, weighs 165 pounds, with brown eyes, brown hair and a mustache. He was last seen wearing camouflage cargo shorts, a gray T-shirt and avocado-green rubber sandals. He may also be wearing a camouflage New York Yankees cap.
Anyone with information can call officer Jo Aoki at 961-2214 or 935-3311.
WAIKIKI
Man arrested in bar break-in
Police arrested an 18-year-old Makiki man Friday morning after he was caught allegedly climbing into the second-story window of a closed bar.
Security guards at a Waikiki bar saw a man climbing into the open second-floor window of an open-air bar 4:25 a.m. Friday after the bar had been closed for the night.
Security officers shined their flashlights into the bar at 2330 Kalakaua Ave., and the man tried to flee. Security officers caught and detained him until police arrived.
He was arrested on investigation of second-degree burglary.
WINDWARD OAHU
Man, 31, held in gunpoint heist
Police arrested a 31-year-old man Thursday who allegedly robbed at gunpoint a 33-year-old Kaneohe man at his home April 27.
Police said the suspect, armed with a rifle or shotgun, and another man entered the home at 5:30 a.m. The suspect allegedly threatened the victim with the weapon and took several items, then fled, police said.
He was arrested about 3:25 a.m. Thursday on an unrelated case, then arrested at noon on suspicion of first-degree robbery.
State Hospital escapee captured
Police caught a 39-year-old man who escaped from a Hawaii State Hospital facility Thursday.
Police said the man had been committed to the treatment center by court order and had left without permission about 4:50 p.m.
Police stopped and detained him Friday while investigating a report of suspicious activity, discovered he was an escapee and arrested him in Chinatown, police said.
LEEWARD OAHU
School fire cause is not identifiable
The cause of an April 26 Highlands Intermediate School fire has been classified as undetermined, a fire official said last week.
Capt. Terry Seelig said fire investigators were unable to identify one particular cause for the fire that caused an estimated $360,000 in damage. A portable building was destroyed and two were damaged, with $25,000 worth of damage to their contents.
HONOLULU
2 men arrested in attack on driver
Police arrested two men who allegedly attacked the 43-year-old male driver of a vehicle Friday night.
Police said the suspects allegedly approached the vehicle in the Kalihi area and opened the driver's and passenger side doors, then punched and kicked the driver.
A 34-year-old homeless man and a 41-year-old Waikiki man were arrested on suspicion of first-degree unauthorized entry of a vehicle at 11:20 p.m. on Lanakila Avenue.