---
HSCA kicks off 20th season today
The Hawaiian Sailing Canoe Association opens its 20th season today with one of the most difficult events on its five-month calendar: the Alenuihaha Channel Race from Keokea Bay on the Big Island to Hana, Maui.
It's a 33-mile event combining sailing and paddling in a modified outrigger canoe across what is listed as one of the Top 10 most dangerous channels in the world. About a dozen crews are expected to compete, with holopunis -- smaller sailing canoes -- joining the fleet for tomorrow's second race from Hana to Kahului.
The HSCA events travel up the island chain through September's year-ender on Kauai. Races include crossing the Kaiwi Channel between Molokai and Oahu, and the Kauai Channel between Oahu and Kauai.
» On the Web: www.hsca.biz
Kaiwi Channel relay race tomorrow
Tag-teaming on the water. That's the format for tomorrow's
Starbucks Kaiwi Channel Relay World Championship
, a 40.2-mile event for one- and two-person outriggers, from Molokai to Oahu.
Team members make open-ocean changes at designated intervals between Kaluakoi, Molokai, and Ala Wai Harbor, Oahu. The race starts at 8 a.m. with the first canoes expected around 1:30 p.m.
Last year, Karel Tresnak Jr. and Nate Hendricks edged out Kai Bartlett and Patrick Dolan by some 20 seconds, winning in 4 hours, 36 minutes and 5.5 seconds. About 110 teams are expected to compete.
---
WILD SURF
Bruce Irons barrels to first-round win in Tahiti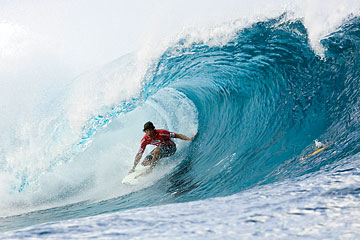 2 surfers eliminated in France
ANGLET, France » Bonga Perkins was the only Hawaii surfer out of three to win his Round 3 heat yesterday at the Oxbow Pro World Longboard Championship yesterday at Les Cavaliers.
Perkins eliminated American Dodger Kremel, 11.50-8.30 to advance to today's Round 4. Hawaii's Kai Sallas was edged out by South Africa's Matthew Moir, 13.50-1305, and Ned Snow was ousted by Australia's Jackson Close, 14.25-13.00.
On Thursday, Hawaii's Keegan Edwards advanced after defeating Brazilian Marcelo Freitas, 11.25-6.00. Edwards had the highest score of the day with a 9.50 tube ride.
"Well, I am from Hawaii, so that's we do, we ride tubes," Edwards said. "When I came out I gave a little shaka, like, 'bring on France' you know. I was pretty stoked."
Also eliminated Thursday was Hawaii's Duane de Soto.
Kaneko makes cut in Japan event
TOKYO » Honolulu's Ayaka Kaneko, a junior at Sacred Hearts Academy, shot a 6-over-par 78 yesterday to make the cut by two strokes at the Solonpas World Ladies Cup with a two-day 148.
Kaneko was tied for 34th, seven strokes off the lead, at the LPGA of Japan event at Yomiuri Country Club.
4 receive NWC softball honors
Lindsay Fujita (Punahou '03), a senior at Puget Sound, and Kelly Nishitomi (Castle '06), a freshman at Pacific University, were named to the All-Northwest Conference women's softball second team yesterday.
Puget Sound sophomore third baseman Kelli Ishii (Punahou '05) and Kerstyn Tsuruda (Kalaheo '04), a redshirt sophomore at George Fox, received honorable mention notice.
Fujita, a second baseman, led the Loggers with nine home runs, 34 runs batted in, 72 total bases, a .600 slugging percentage while hitting .317.
Nishitomi, a second baseman finished with a .259 batting average, had the most at-bats for the Boxers (116) and tied for the team lead with 16 stolen bases (in 16 attempts).
Ishii played third base for Puget Sound and hit .337.
Tsuruda caught all 38 games for the Bruins, led the team with 15 walks and hit .222.