Ben there, Don that
An entertainment columnist recalls his 59-year friendship with the down-to-earth star

Star-Bulletin columnist Ben Wood probably knew Don Ho longer than anyone else in the media. Their friendship dated to 1948, when they squared off against each other in high school football -- Ben for Roosevelt, Don for Kamehameha. Ben offers his remembrances of a great entertainer and a great friend.

He called me "the best quarterback on our team" -- not much of a compliment, since I played for the other team.
I called him "a Kam School bully."
I met Don Ho in 1948, when we played football against each other as teenagers at the old Honolulu Stadium in Moiliili. We remained friends through his death on April 14.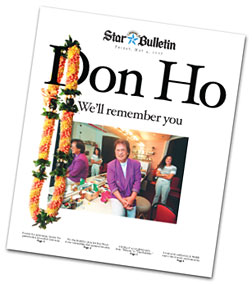 In '48 he was a backfield ace for Kamehameha, and I was the quarterback for Roosevelt. Kamehameha had to beat us to capture the high school championship. Don played fullback and led his team to victory, 21-0, by scoring two touchdowns and kicking all three extra points. In those days it was an eight-team league of four public and four private schools.
I was not exactly Colt Brennan. In fact, "struggling quarterback" would have been a good term for me. Years later, when Don was Hawaii's biggest and best-known entertainer, he would rag me about that football game. "You were the best quarterback on OUR team!" he would say.
Because he was almost 18 months older than I was -- even though we both graduated in 1949 -- I would counter with: "Don, when we played football against each other, Hawaii was a gentle place. Gentle winds from Manoa would blow across the stadium into Waikiki, where the palm trees and hula girls swayed in the breeze. In those days, Don, football was a game for boys. I was a boy of 16 with cheeks of tan; you were 22 or 23 years old, you OVERAGE Kam School bully!"
Then we would roar with laughter. Don's wife and right arm, Haumea Hebenstreit Ho, would laugh along with us whenever we got into the football talk.
Our friendship grew at the University of Hawaii in the early 1950s. Don was thinking about entertainment even then. He and songwriter Kui Lee used to hang around Lau Yee Chai's, listening to Richard Kauhi's terrific vocal-instrumental quartet, which was adding a jazz touch to Hawaiian and hapa-haole favorites.
One afternoon, Don and I gathered in the university Quarry with another collegian, my friend from seventh grade, Hank McKeague, a singer-composer. Don brought a couple of pals with him. A guitar and a case of Primo beer also were part of the meeting. The guys discussed music and sang a bit. I remember Don saying, "One day, I'm going to form a group."
One summer, Don and I landed jobs with a paving company that was laying asphalt on the runways at Honolulu Airport. Our job was to sweep the runways before the asphalt went down. We didn't use hand-held brooms. Stiff bristles were affixed to wooden frames about 10 feet wide and 15 feet long. A cable attached the frames to trucks. Don and I drove the trucks up and down the runways for eight hours every day. Obviously, we got those mentally challenging jobs because we were college boys.
We told that story to Don's good pal Tommy Campos. To our surprise, Tommy said he was a truck driver bringing in asphalt for that job.
In the 1960s, as Don and the Aliis became a success at Duke's, my connection with Don got stronger as I was the Star-Bulletin's entertainment editor. Those were great years. The club's owner, Kimo McVay, came up with imaginative ways to promote his star.
Stars flocked to see Don and spent time with him in his dressing suite. Duke and Nadine Kahanamoku were frequent guests. The management always had a big bowl of poi in the kitchen for the great Duke.
I saw Don's show many times, and Don always had the audience in the palm of his hand. That was his greatness as an entertainer. He always had a way to get a grip on the audience.
About 10 years ago I started holding golf tournaments: one in memory of my late wife, Brita; the other, the Mini-Benny Birthday Tourney for Wobbly Golfers and Worthy Women. Don and Haumea played in most of them. He and then-Gov. Ben Cayetano tied for first place in one Brita Memorial. Haumea played exceptionally well in another and should have won, but she had no handicap.
Mihana Souza would sing at our post-tourney parties. Kimo Kahoano, Jimmy Borges and Byron Yasui would play golf and entertain. Don sang at one of the after-golf parties at Sonny and Mahi Beamer's Kawela spread. Mahi sang and played piano. Nina Kealiiwahamana also added her golden voice. Mike Kaawa and Van Horn Diamond sang at that one, too. You can't buy all that entertainment.
I had to give up the tournaments when I had a shoulder replaced about four years ago. Don asked when I was going to throw another tourney, but I told him I could not play because of a bad arm. "You always had a bad arm," he said, referring to my passing in football.
What hurt was that my buddy and best man at my wedding, Frank "Steiny" Steinmiller, who was a good end on our Roosevelt team, agreed with him. Don once told Steiny they should roast me. Thankfully, it never happened.
Steiny was the second person to call me about Don's death the day he died.
Don invited me to a dinner at Side Street Inn in May 2004, along with others who'd helped with a tribute to him at the Hawaii Theatre. During the evening, I asked him what he considered the best time in his long career. "Right now!" he said, slamming his palm on the table.
Don reached so many people. Fay Parker spoke to me at the Halekulani's House Without a Key the day Don died. She said Nancy Sinatra had called her in tears to talk about his passing.
I also spoke with my old friend McKeague, who often writes letters to the editor. He said Don called him late last year to applaud him for a letter complaining that stem cell treatment is not available in the United States. Don, of course, had been to Thailand for stem cell treatment.
Many others spoke to me about Don. Among them: insurance man Bob Corboy, Realtor Andrea Kia, retired firefighter Abraham Konaaihele, entertainers Danny Kaleikini and Imaikalani Young, Michelle Doherty, who called from Miami, and Ann Hill, who called from Newport Beach. That shows a bit of the range of people he touched.
The first person to call me about Don's death was Judy Jensen, ex-wife of the late singer Dick Jensen. She wanted details on services and hoped to fly here from Arizona to attend. "He helped Dick and me so much," Judy said. "Dick was there to welcome Don to heaven."