Rock and country musicians slated for BayFest 2007
EVENT ORGANIZERS have announced the main entertainment lineup for "BayFest 2007," happening June 29 to July 1 at Marine Corps Base Hawaii in Kaneohe.
Canadian rockers Three Days Grace headline on June 29, followed by country artists Gretchen Wilson on June 30 and Alan Jackson on July 1. You're out of luck if you're hoping for a follow-up to last year's appearance by Juvenile; no hip-hop acts were invited to play "BayFest" in 2007.
Families, however, will be happy to hear that ticket prices will drop for those who don't want to stick around for the performances. According to MCBH representative Ed Hanlon, discounted tickets will allow access to the carnival midway and festival booths, but not the concert grounds.
Visit www.bayfesthawaii.com for more info ...
CATCHING UP: Local singer Sunway returns to the islands this week after a visit to Germany.
No, it wasn't a vacation -- while some artists choose to stay at home to record, others find it easier (or more economically feasible) to travel outside the islands. For Sunway, it was the opportunity to collaborate with German producer Joerg Alfter.
"We've got one song done already," she said last month over lunch at Ryan's Grill. "It was done in February when I spent seven days in Germany."
The return trip is expected to yield more material for Sunway's upcoming album, due out later this year. While she released three albums in Japan during the late '90s, the focus is on her English-speaking fans this time around.
"I pull a lot from r&b and rock ... but the all-encompassing word to describe my sound would be 'pop,' " she said. "The new album is definitely me, that's for sure."
After recently wrapping up a steady gig at the Hilton Hawaiian Village with John Valentine, Sunway now appears at Pearl Ultralounge on a regular basis. Catch her there Saturdays from 7:30 to 10:30 p.m. ...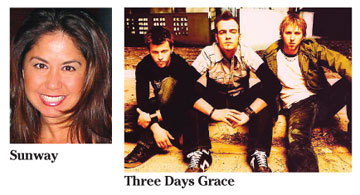 AFTER MORE than two years at Bliss Nightclub (now known again as the Velvet Lounge), "Casa" moves to new digs this weekend.
Sound|House is the new home for house music on Sunday nights, with former Hawaii resident DJ Passean making the trip from Chicago to help relaunch the weekly party. The Sisters in Sound's Ms. Angel will also bless the decks early in the night.
Also making the move to Sound|House is Down Towne for Women, who present "Prom Night: I'm Forever Your Girl" at the club on Saturday. Frilly dresses are requested for the monthly theme party that caters to women who love women ...
Cirque Hawaii is giving the club scene another try on Friday, with help from two local promoters.
Sick Nick Productions and Nugget Style present "The Circus" inside the former IMAX Waikiki, a new 21-and-over weekly featuring $1 drinks from 10 p.m. to midnight. As expected, Cirque Hawaii performers will be enlisted to help set the mood; JT Harker will also perform live at some point during the evening ...
TICKETS FOR the fifth annual "Take a Walk in the Country" concert with The Makaha Sons go on sale Saturday at the Blaisdell Box Office and all Ticketmaster outlets.
Once again, the concert will take place at the Waikiki Shell, with prices set at $15 for the lawn and $40 for reserved seats. Special $125 VIP tickets include table seating and dinner service, and all reserved seats come with a free copy of the Sons' concert DVD "Live at the Hawaii Theatre."
Confirmed guests for this year's show: Keali'i Reichel, Melveen Leed, Hoku Zuttermeister, Kealo Koko, Manu Boyd and Chinky Mahoe ...