---
FAST FACTS HAWAII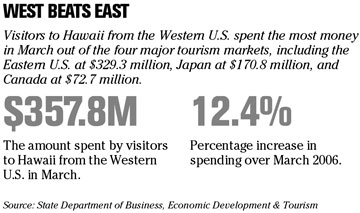 ---
Isles top tally of trade-linked jobs
More than 20 percent of jobs in Hawaii are linked to international trade, the highest proportion of any state, according to a study by a Washington D.C. group.
Business Roundtable, an association of U.S. CEOs that advocates free trade, conducted the study.
In Hawaii, 20.5 percent of jobs are now supported by trade, up from 11.4 percent in 1992. Nationally, the group says 18.4 percent of jobs are supported by trade.
"Hawaii is an export platform to the dynamic Southeast Asia economy," said John J. Castellani, president of Business Roundtable. "With a U.S.-Korea free trade agreement in place, Hawaii will be even better positioned to reap more jobs, foreign investment and exports."
China is one of Hawaii's fastest growing trade partners, according to the study, with exports having increased nearly 27-fold since 2000. Hawaii's top foreign markets are Singapore, Japan and China.
Hawaii firm wins Navy contract
Honolulu-based engineering firm
SSFM International Inc.
and a California company have won a $2.9 million contract to design and build a 700-foot structure to demagnetize submarines for the U.S. Navy.
The structure to be built by SSFM and Long Beach-based Moffatt & Nichol, called a magnetic silencing complex, will help reduce steel-hulled vessels' susceptibility to magnetically triggered mines and detection systems.
The structure at Pearl Harbor's Beckoning Point will be only the second complex of its kind in the United States, SSFM said yesterday in a statement. The other is at Kings Bay, Ga.
"To be involved in an exciting project like this comes along once in a lifetime," said Myles Hayashi, project manager for SSFM.
---
New Clear Channel bid rejected
SAN ANTONIO »
Clear Channel Communications Inc.
, the largest U.S. radio broadcaster, rejected a new offer from
Bain Capital Partners LLC
and
Thomas H. Lee Partners LP
, saying it wasn't enough to win over shareholders poised to defeat a sale.
Investors who oppose the existing $19.4 billion offer have enough votes to block the deal, San Antonio-based Clear Channel said yesterday. The new offer would have boosted the price by 20 cents a share to $39.20 and paid in cash or stock.
The new bid isn't materially higher and accepting it would delay a May 8 shareholder vote for 90 days, the company said. Clear Channel's board also cited "significant shareholders" of the company who privately and publicly indicated they weren't interested in buyout terms that included stock. The board said it will go ahead the scheduled vote.
In Hawaii, Clear Channel owns top-rated KSSK-FM 92.3/AM 590 as well as KIKI-FM 93.9, KDNN-FM 98.5, KUCD-FM 101.9, KHVH-AM 830 and KHBZ-AM 990.
Starbucks brews up gains
SEATTLE »
Starbucks Corp.
said yesterday its fiscal second-quarter profits jumped 18 percent, as the company opened 560 new stores as part of an aggressive global expansion.
The world's largest coffeehouse chain reported net income of $150.8 million, or 19 cents a share, for the 13 weeks ended April 1. That was up from earnings of $127.3 million, or 16 cents per share, in the same period last year. Revenue for the latest quarter rose 20 percent to $2.26 billion, compared to $1.89 billion last year.
Analysts had projected earnings of 19 cents per share on revenue of $2.3 billion.
---
BUSINESS PULSE