NFL DRAFT
5 from UH picked; 5 more sign
Florida, Ohio State, Notre Dame, Texas, Michigan, Tennessee.
And right up there with some of the biggest names in college football ... Hawaii.
Newest NFL Islanders
Former UH players taken in this weekend's NFL Draft or who signed with NFL teams yesterday.

Players drafted
Player, position, team, draft round and draft position
» Ikaika Alama-Francis, DE, Detroit Lions, second round, No. 58 overall
» Samson Satele, C, Miami Dolphins, second round, No. 60
» Reagan Mauia, RB, Miami Dolphins, sixth round, No. 181
» Melila Purcell, DE, Cleveland Browns, sixth round, No. 200
» Nate Ilaoa, RB, Philadelphia Eagles, seventh round, No. 236
Signed as free agents
Player, position, team
» Tala Esera, G, Miami Dolphins
» Kenny Patton, C, Oakland Raiders
» Leonard Peters, S, New York Jets
» Dane Uperesa, OT, Cincinnati Bengals
» Lawrence Wilson, DT, Baltimore Ravens
The Warrior program had record success in this year's NFL Draft, with another three players drafted on yesterday's second and final day. The selection of running back Reagan Mauia (Miami Dolphins) and defensive end Melila Purcell III (Cleveland Browns) in the sixth round, and running back Nate Ilaoa (Philadelphia Eagles) in the seventh, gave Hawaii a program-best five draft picks.
It matched the number of six other schools, including USC and Miami, for seventh-best in selections. Only Florida, Ohio State, Notre Dame, Texas, Michigan and Tennessee had more (see graphic).
Another five Warriors agreed to or are expected to sign free-agent contracts. Not drafted but heading to camp are offensive lineman Tala Esera (Miami Dolphins), cornerback Kenny Patton (Oakland Raiders), safety Leonard Peters (New York Jets), offensive tackle Dane Uperesa (Cincinnati Bengals) and nose tackle Lawrence Wilson (Baltimore Ravens).
"I am not surprised, not with the season and the type of team we had," said Ilaoa, who led the 11-3 Warriors in rushing yards with 990 and scored 13 touchdowns. "It shows the kind of actual talent we have.
"For us to tie with USC (in picks) means we're not a fluke, or a gimmick offense, or whatever they like to call it. We have something very special here and (this draft) confirmed it."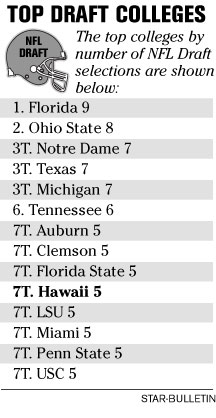 The call from Philadelphia also did not surprise Ilaoa, who had been in contact with several teams during and after the NFL Combine.
"I'm happy and feel very fortunate that it was Philadelphia," said Ilaoa, a graduate of North Stafford (Va.) High. "I was at home, watching it on ESPN, and waiting for it to happen."
Purcell was eating breakfast with his family at Anna Miller's, watching the draft show at the Pearlridge restaurant. He was anticipating a call from either the New England Patriots or the Tampa Bay Buccaneers, mostly because he didn't hear from Cleveland last week.
"I feel good about them, the coach was nice and they run a 4-3," said Purcell, a three-time All-Western Athletic Conference pick who led all UH defensive linemen with 60 tackles, 15.5 tackles for loss and 9.5 sacks. "We haven't talked about money. I'm going up there to play football. But I heard it's cold, so I will have to go out and buy some warm clothes.
"It's amazing that we had five drafted. I waited for the others to be picked and I'm happy to hear about all the free agents. I'm so happy for everyone."
Most affiliated with the Warrior program had expected five to be drafted. The slight surprise was that it was Mauia -- who wasn't even on ESPN.com's list of Hawaii possibles -- and not Uperesa.
"Mauia is a very good football player," Warriors coach June Jones said. "And I think Miami is the perfect place for him.
"It's pretty exciting for all our players to get this opportunity after all the hard work they've put in. I don't know if the number is amazing, because when you have had the success we've had, the number of kids we've had make it in the NFL the last few years, people are going to take notice."
During Jones' eight seasons at UH, 16 Warriors have been drafted and, counting yesterday, another 25 have signed as free agents. Hawaii's previous draft record was three, set in 1985 and matched in 2003.
The potential is there for at least one Warrior vs. Warrior matchup every NFL weekend.
"I'd love to see that happen," Purcell said. "The number of our guys just keeps growing every year, as our program keeps building every year."
"All it takes is one team to like you," Ilaoa said. "I'm not surprised about Reagan. I knew he was on the board for Miami. They saw him at Pro Day and we knew they liked what they saw."
Esera likes that he'll continue to see Mauia, as well as Samson Satele, who was selected by the Dolphins during Saturday's second round.
"I'm looking forward to going up with Sam and Reagan," Esera said. "I had 11-12 teams contacting me yesterday after the draft. It was kind of crazy and I ended up with the team I wanted to go to.
"They're rebuilding down there and hopefully we'll have a chance to build something special."
Hawaii's five selections also includes second-round choice Ikaika Alama-Francis (Detroit Lions) who, with Satele, gave the Warriors two second-round picks for the first time. It also gave the WAC 17 players overall; Boise State and Fresno State had four players drafted, San Jose State two and Nevada and Louisiana Tech one each.
The WAC was sixth out of 28 conferences with draft picks. The SEC led the way with 41, followed by the ACC (31), Big Ten (31), Big 12 (28) and Pac-10 (28).
Several Hawaii prep products who competed on the mainland had been listed as possible draftees, but were not chosen over the weekend. Looking at free agency are:
» Oregon center Enoka Lucas (Kamehameha);
» Oregon guard Palauni Ma Sun (Kahuku);
» Utah offensive lineman Tavo Tupola (Kahuku);
» Nevada receiver Caleb Spencer (Kamehameha).
Attempts to reach the four yesterday were not successful.