Accident deaths at 30 this year
An Ewa Beach driver and a motorcyclist from Waipahu are the latest fatalities
Two Oahu men died over the weekend in separate motor vehicle crashes, bringing the 2007 death toll for the island's roads to 30.
A 22-year-old Ewa Beach man was killed early yesterday after his sport utility vehicle spun out of control on H-2 freeway and slammed into a tree near Pineapple Road, bursting into flames. A friend at the crash site yesterday evening identified him as Gerald Saramosing.
In another accident, a 36-year-old Waipahu man died Saturday after his motorcycle crashed into a car Friday night.
The Honolulu Medical Examiner's Office identified the man as Craig Aoki.
Family members and friends of Saramosing set up a memorial around the tree that stopped his 2004 GMC Envoy at about 3:35 a.m.
"He always made people laugh," said Ireneo Manzano, Saramosing's friend of eight years.
Manzano, 24, said he was drawn to the crash site after learning of the accident from his family. "I got to see it," he said.
Manzano and Saramosing were neighbors in Whitmore Village while attending Leilehua High School. Saramosing graduated after 2000, Manzano said, and then worked with him as a painter for several years.
"He liked Tupac (Shakur)," Manzano said as he placed the rap artist's CD on the tree. He added that Saramosing was good at basketball.
Saramosing, who has a younger brother and sister, had bought the SUV about a year ago, he said.
Police said the gray GMC Envoy was speeding southbound on H-2 when the driver lost control at a bend in the road and veered onto the right shoulder.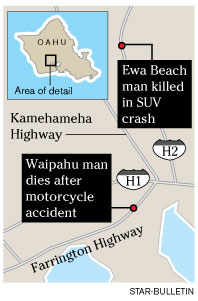 The SUV spun and struck a tree before bursting into flames, police said. Saramosing was pinned and died at the scene. He sustained several injuries and was burned, police said.
Police had not determined if the airbags deployed or if Saramosing was wearing a seat belt. Speed was a factor, and the roadway was wet from rain, police reported.
The Medical Examiner's Office said yesterday that motorcyclist Aoki died Saturday at the Queen's Medical Center.
Aoki was taken to the hospital in critical condition Friday after the 2002 Suzuki motorcycle he and his wife were riding crashed into a car exiting a fish market on Farrington Highway, Ewa of Awamoku Street, police said.
Aoki and his wife, who were both thrown from the cycle, were wearing helmets.
Janice Aoki, 36, struggled with the loss yesterday.
"He's a wonderful husband and friend, and I will miss him so much," she said on the telephone.
The couple have two children together, a 16-year-old son and a 17-year-old daughter.
"He always put his family first. That's why I think I survived," Aoki said. "There's so much of him, everything good. It's hard for us."
Aoki grew up in Pearl City and is survived by several brothers, she said.
The two deaths bring the total of traffic fatalities on Oahu to 30 this year, compared with 34 at this time last year.