| | |
| --- | --- |
| | Nature Calls |
---
Scientists monitor local birds to track disease
The dressed-for-success plovers and ruddy turnstones -- our charismatic avian part-time residents -- have captured our hearts as biologists have shared news of their incredible marathon migration journeys over the years to find mates.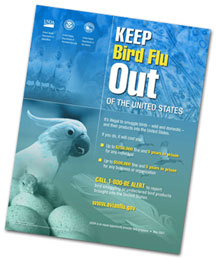 Now, there's even more to the story: Because of their predictable flight paths, the birds have become part of a global early warning system to identify potential health threats and epidemics.
Bird experts, health experts and many government and nongovernment agencies have been working to prevent a devastating outbreak of the highly contagious bird flu (H5N1 avian influenza) and other threatening viruses. Monitoring the health of migrating birds and taking biological samples are part of the plan.
So, as we stop in our tracks this week to admire the bedazzling plumage of these birds preparing to seek mates thousands of miles away in the North Pacific, state, federal and nongovernmental partners hope to learn what these migrating birds can tell us about pandemics.
On a grassy lawn near you, local, national and international experts could be capturing birds to band them and, in some cases, attaching tiny radio transmitters. They also take samples that could help biologists detect bird flu in its infancy.
Brigham Young University-Hawaii's Phil Bruner has been involved in this effort over the years, taking fecal samples from ruddy turnstones that he followed last June in Alaska. Ruddy turnstones migrate through Asia as they return to the Arctic from Hawaii and could be exposed to the Asian H5N1 virus. The ruddy turnstones that nest in western Alaska spend the nonbreeding season in the Hawaiian Islands -- often forming large flocks.
Collection of these samples at various sites during spring and fall migration could help researchers alert public health officials of a potential threat.
Montana State University plover expert O.W. Johnson is working with volunteers in Hawaii to band and attach transmitters to Pacific golden plovers. It takes just a few minutes more for U.S. Fish and Wildlife staff to collect fecal samples before the birds (and Johnson) head to the Arctic.
All of this coincides with U.S. Sen. Daniel Inouye's announcement last week that the U.S. Centers for Disease Control and Prevention plan to establish a field station in Hawaii for monitoring, responding to and warning of public health threats.
This could bring more experts here more frequently for fieldwork and conferences. Just getting here provides valuable insight for epidemiologists. The long flight to Hawaii gives folks who ponder outbreaks for a living many hours to consider how epidemics jump from point to point.
It might take a village to raise a child, but it takes oodles of local, national and global agencies and knowledgeable volunteers to carry out surveillance work to prevent or halt an epidemic.
It all boils down to the public health choices: prevention or intervention. The cost in lives and funds is always greater on the intervention side of the equation than the prevention side.
This makes the extra work carried out by bird experts, in coordination with the CDC, Department of Interior and local health personnel even more valuable as a model for interagency intervention. The connectivity provided by the Internet and the specificity provided by GPS could make all the difference as technology increases ways to communicate.
Some experts, however, believe the biggest threat could come from bird products smuggled into the country -- or innocently brought in as gifts. So everyone has a role here in keeping bird products -- used in foods and crafts -- from entering Hawaii. After all, it was two over-50 ladies at a local craft fair a decade ago who spotted a table filled with Hawaiian turtle jewelry and worked with federal agents to stop the illegal capture, killing and sale of our Hawaiian sea turtles.
Local shoppers could also be on the lookout for smuggled birds and bird products. What might seem like a deal could turn out to be a big deal!
The U.S. Department of Health and Human Services Office of Public Affairs and the Centers for Disease Control and Prevention have developed public health messages and other resources for use during an emergency. To view some tips, visit www.AvianFlu.gov. It could spark discussion and ideas for your household, neighborhood, community or island.
Shirley Gerum
teaches botany, ethnobotany and environmental science at Chaminade University. Her column runs on the last Monday of the month. E-mail her at
features@starbulletin.com