| | |
| --- | --- |
| | Wood Craft |
---
Pick up slightly worn designer clothing at bargain prices
Women and even men will have a great chance to score slightly worn designer clothing at bargain prices and have plenty of fun as well at the Hawaii Opera Theatre's Spring benefit Friday. The party, fashion show and pre-sale will be held on the Honolulu Design Center's second floor. The HOT event is sponsored by the Star-Bulletin and MidWeek and the center. Pupu and wine will be served. The sale of clothing, shoes, bags, accessories and jewelry will be open to the public the following day, May 5, from 10 a.m. to 5 p.m.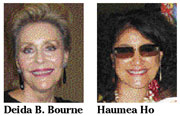 Deida B. Bourne
-- B. Bourne, that's cool -- was a belle of last year's Symphony Ball in a smashing couture gown by
Victor Costa
she bought at the HOT sale. It was donated by fashionable
Marilyn Trankle
. Entry to Friday's event is $60. Call
Nikki Nielsen
at 596-7372, ext. 14 for tickets ...
Mick Fleetwood's Island Rumours Band, Willie K, Yvonne Elliman, Eric Gilliom and Raiatea Helm, Crater Festival stars, will talk about the May 19 festival Thursday, starting at 1 p.m., in the Royal Hawaiian Hotel's Monarch Room. Some will perform. Member of the media, VIPs and sponsors have been invited ... Haumea Hebenstreit Ho, Don Ho's widow, said she is holding up OK and that her family members flew here from New Zealand to support her. Both she and John DeFries, who is working with Cha Thompson on next Saturday's spreading of Don's ashes off Waikiki and the program, said they stopped the Waikiki Beachcomber show because everyone involved needs time to handle things ...
Kamae, Sons of Hawaii in free concert today
The Sons of Hawaii
will launch Waikiki Beach Walk's Hawaiian Music Heritage Program with a free concert today, 4 to 5:30 p.m., on the Embassy Suite's fourth floor Grand Lanai.
Brickwood Galuteria
and
Kimo Kahoano,
a dashing duo, are hosts. Concerts will be held on the last Saturday or Sunday of each month ....
Kristen Consillio's
byline hasn't been appearing in the Star-Bulletin Business Section because she gave birth to a daughter,
Leia
, on April 9. She and husband,
Tony,
have a son,
Jedi
, 18 months. Tony is a "Star Wars" fan. Jedi may get him for that name when he grows up ...
Deena Nichols
, Macy's senior veep and director of stores in Hawaii, is proud to say that her Hawaii Region earns the highest dollars-per-square-foot for the chain ...
Ben Wood
, who sold the Star-Bulletin in the streets of downtown Honolulu during World War II, writes of people, places and things in our Hawaii. E-mail him at
bwood@starbulletin.com