---
FAST FACTS HAWAII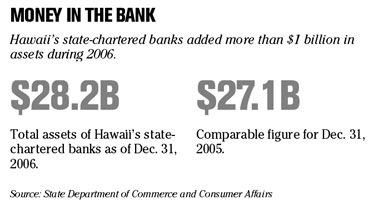 ---
HAWAII
Vino at Kapalua to close in June
Vino Italian Tapas & Wine Bar
will close its doors June 11, said chef-owner D.K. Kodama.
Kodama and partner Chuck Furuya, a master sommelier, were unable to find a suitable relocation spot on Maui and expressed deep disappointment in the closure, in a statement.
The closure of the Village Golf Course, where Vino is located, as well as the Kapalua Bay Hotel and the upcoming six-month-or-more closure of the Ritz-Carlton Kapalua vastly reduced potential business from visitors.
Vino opened in the summer of 2003 as Kodama's first foray into Italian food, which he "loves," he told the Star-Bulletin that May. The restaurant, which has won dozens of national and local accolades, plans a month-long farewell celebration.
Meanwhile, Kodama remains focused on opening his Sansei Seafood Restaurant & Sushi Bar in Waikoloa, on the Big Island.
Army venture to buy Kunia land
Army Hawaii Family Housing LLC
has entered into a agreement to buy about 2,400 acres of agricultural land in Kunia from
James Campbell Co.
that has been under lease to
Del Monte Hawaii.
The pineapple producer, which still holds the lease on the land until December 2008, announced last year it was shutting down operations and leaving the state.
No purchase price was disclosed, and the two parties declined to provide further details.
Army Hawaii Family Housing, a joint venture between Actus Lend Lease and the Army, said it intends to keep the land -- Parcels 7 and 9 -- under agricultural use for the foreseeable future, but long term is considering the possibility of building housing for Army families on a portion of the land. AHFH said any alternative use of the agricultural land would require regulatory approvals.
AHFH, which owns and operates more than 7,000 rental homes on Army installations on Oahu, currently is in the midst of a 10-year plan to rebuild, upgrade and renovate its housing inventory.
NATION
Nevada casinos for sale
RENO, Nev. »
Holder Hospitality Group
is putting 13 Nevada casinos up for sale, including ones in Sparks, Gardnerville, Elko and Hawthorne, group founder and chairman Harold Holder said yesterday.
The Silver Club in Sparks, Sharkey's in Gardnerville, Stockmen's and Commercial in Elko and El Capitan and Joe's Tavern in Hawthorne are among the casinos he hopes to sell.
"We're in play," Holder told the Reno Gazette-Journal.
Holder said he hopes to sell the casinos and slot route that runs machines in small businesses for more than $200 million. He notified employees of his plans on Thursday and has established a $15 million fund for employee bonuses to keep the nearly 1,500 workers on the job through a sale.
WORLD
U.S., European sales help Mazda
TOKYO »
Mazda Motor Corp.
, a third owned by
Ford Motor Co.
, posted a second straight quarter of higher profit as it sold more compact cars in Europe and North America.
Net income rose 24 percent to 31.6 billion yen ($265 million) for the three months ended March 31, from 25.4 billion yen a year earlier. Sales rose 16 percent to 958 billion yen from 826 billion yen. Fourth-quarter figures were derived by subtracting nine-month results from annual earnings released today.
The automaker sold more Mazda3 compact cars in Europe and CX-7 sport-utility vehicles in North America. A weaker yen against the dollar and euro raised the value of overseas sales at Mazda, which exports three out of four vehicles it makes in Japan.
Toyota Motor Corp., Japan's largest automaker, exported 62 percent of domestic production in the year ended March 31. Honda Motor Co., the second-biggest, shipped 48 percent.
---
BUSINESS PULSE