---
FAST FACTS HAWAII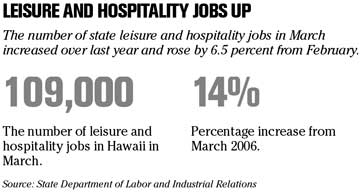 ---
Hawaiian Properties merges
Hawaiian Properties Ltd. has merged with Metropolitan Management.
The company, itself a subsidiary of National Mortgage and Finance Co., said the merger makes it the third-largest property management company in the state, with a portfolio including more than 16,000 apartments. Besides condo association management, the company offers commercial, residential, and vacation-rental management, along with real estate sales and brokerage.
Dass Ramadass, president of Hawaiian Properties, says the firm has been in touch with residents and boards of directors of each association, and assured them that services will continue seamlessly.
Offices have been consolidated at Hawaiian Properties' 1165 Bethel St. headquarters.
The company now has a staff of 84, including 10 out of 20 from Metropolitan Management that were asked to remain with the company. Metropolitan's president, Ralph Ahles, has joined rival Hawaiiana Management Co. Ltd.
Crazy Shirts hires Disney artist
Crazy Shirts
has hired former Disney artist Eric Robison as creative director.
Robison is among the Walt Disney Co.'s top-selling artists, with a more than 20-year track record with the company, starting as a show concept designer in 1987, according to a Crazy Shirts statement.
One of his career milestones was the 100 Mickey Mouse portraits he painted for what would have been Walt Disney's 100th birthday. It sold out in 40 days.
"We are incredibly fortunate to have someone of Eric's caliber heading the creative team at Crazy Shirts," said Mark Hollander, president and chief executive officer.
Robison said, "I can't imagine a better place for me to continue my creative career ... I see Crazy Shirts as a natural next chapter for me."
Superferry sets fare discounts
The
Hawaii Superferry
, scheduled to begin service in July, has added discounted rates for children, seniors and military retirees.
One-way fares for children (ages 2-12), senior citizens 62 and over, and retired military personnel will be $41 off-peak/$51 peak, not including a fuel surcharge. Rates for adult passengers will be $11 more in each case. The fare for children under two will be $17 one-way, any day of travel.
Fare discounts for passenger and non-commercial vehicle travel between Maui and Kauai, via Honolulu, have also been added at a rate of 50 percent off published rates for the second travel segment. The company will begin selling tickets in May.
Pearlridge highlights new tenants
Big City Diner
opened at Pearlridge Center yesterday on Pali Momi Street, joining the lineup of new mall offerings.
New Pearlridge Uptown stores and restaurants include: Ainokea, a men's and women's clothing and accessory store; Chemistry, a personalized bath and body product store; and a Dezigner Sunglasses kiosk.
New Pearlridge Downtown offerings include: Hana Paa Fishing Supply Store, which sells fishing supplies, diving equipment and ocean-themed apparel and a Papaya Clothing Co., which sells women's clothing, accessories and cosmetics.
Hawaiian Air in code-share deal
Hawaiian Airlines
' members now will be able to earn and redeem HawaiianMiles frequent-flier points when they fly on
Continental Airlines
anywhere in the United States under a new code-sharing agreement between the two carriers.
The new agreement also allows members of Continental's OnePass frequent-flier program to earn 500 OnePass miles for every interisland flight on Hawaiian.
In addition to the frequent-flier benefits, the new program allows Hawaiian to offer its customers one-stop service between Honolulu and Cleveland, with Continental providing the connections to Cleveland from Hawaiian's gateways in Las Vegas, Los Angeles, San Francisco and Phoenix.
---
BUSINESS PULSE