North Korean resort gives solace to South
The Mount Kumgang project has become a place of spiritual if not political reconnection
Amid ongoing international tensions, North Korea has embraced Western-style tourism at its most famous natural attraction, Mount Kumgang.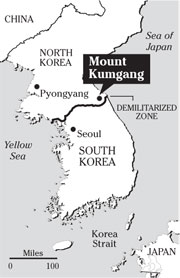 Thousands of Korean and foreign tourists flock each month to a modern resort under development by South Korea's Hyundai Asan Corp., which paid $1 billion for exclusive rights to the business.
After $400 million in additional expenditures since 1998, Hyundai Asan has created not only a tourism hub, but the epicenter for reunification efforts on the peninsula.
"Through the Kumgang tourism business, the reconciliation process has begun between the North and the South," says Young-Hyun Kim, the company's on-site general managing director.
Star-Bulletin reporter Jim Borg visited the stunning locale last week as part of a journalism exchange sponsored by the East-West Center and the Korea Press Foundation.
---
MOUNT KUMGANG, North Korea » Mist rose from the high mountain pool under the thundering waters of Kuryong Falls, adding to the chilly dampness of the day.
Four hours after an unsmiling North Korean soldier scrutinized our passports and waved us on, we stood at the top of a trail traveled each month by thousands of tourists from both sides of the border, all in search of a spiritual reconnection with their ancestral land.
On a divided peninsula technically still at war, Mount Kumgang has become part of a bold experiment in rapprochement. As their political leaders stagger toward the stated goal of reunification, North and South Korea have carved a modern resort out of this imposing landscape along the Sea of Japan.
Despite international tensions over North Korea's nuclear program and missile launches last July, South Korea's Hyundai Asan Corp. is pressing ahead with plans to develop this 922-square-mile expanse a short drive north of the Demilitarized Zone.
Already in place are three multistory hotels, a beach lodge for families, 34 single-family cabins, camping facilities, four North Korean restaurants, six South Korean restaurants, duty-free shops, convenience stores, a hot-spring spa, shows featuring acrobats and folk music, and stone-paved trails punctuated by snack tables. A swimming beach adjoins the floating Hotel Haekumgang in nearby Kosung Bay.
A railway links the two countries here. North Korea, for obscure reasons, has yet to green-light the trains, and border stations remain eerily empty, but Hyundai Asan's Ha-Jung "Dan" Byun expresses confidence that that hurdle will be cleared soon.
"Everything is connected," he says. "Everything is ready. What we are waiting for is the final confirmation between the two governments."
Byun, general manager for planning and foreign investor relations, greeted U.S. reporters visiting Mount Kumgang last week as part of a program sponsored by the East-West Center. This is the first time that the Korea-United States Journalism Exchange, now in its third year, has sent reporters into North Korea.
One of the lessons that emerged is that business interests seem to be succeeding where diplomacy has often failed.
Hyundai Asan, an enterprise separate from the automotive and shipbuilding giants, paid $1 billion to North Korea for exclusive business rights at Mount Kumgang and, farther west, the Kaesong Industrial Complex, where South Korean technology meets cheap North Korean labor.
Scandal clouded the early years of the association, when corruption and embezzlement charges presumably prompted the company's chairman, Chung Mong-hun, to commit suicide in 2003 by leaping from his 12th-floor office in Seoul. Asked whether Hyundai Asan's largesse could be viewed as helping to finance North Korea's weapons programs, Byun said the firm believes the lump sum payments in 1999-2000 were used for economic revitalization.
But even elsewhere along the Demilitarized Zone, a remnant of the 1950-53 Korean War, conflict has bred commerce, drawing tourists to souvenir shops and a carnival park called Peace Land. Tourists and South Korean schoolchildren are taken by tram into a tunnel dug under the DMZ by the North Koreans and discovered in 1978.
Peace Land is a short drive from Seoul, up a highway where billboard-type advertising masks barricades rigged with explosives to stop invading tanks.
South Koreans seem at ease with this dichotomy, taking North Korean anti-U.S. rhetoric and military posturing in stride in an atmosphere of care-free prosperity.
THE BEDROCK for North Korea's burgeoning tourism is a collection of crags that seem to reach skyward like fingers pressed in prayer. Mile-high Birobong Peak caps this Yosemite-esque experience.
The brochure for Mount Kumgang shows colorful photos in every season, but even in a chilly drizzle the three-hour trek was breathtaking. A river spilled down the narrow canyon to collect in crystal green pools.
"The water is pure and clear," observed Yong-Sik Im, 41, who came to the mountain with 31 other residents of Namgu village. He recalled singing a song about Mount Kumgang as a schoolboy and always longed to visit.
South Korean hikers here are essentially pilgrims.
At Kumgang they see harmonious manifestations of heaven, earth and water, symbolized on the national flag. The mountain's yin-yang mix of strength and fluidity has even inspired some movements in the Korean martial art of tae kwon do.
Byun said most South Koreans hope to visit this spot at least once before they die. More than 1.4 million have come since 1998, with a highway route open since 2003.
The site has also been used for meetings arranged by the Red Cross between family members separated by the border. Special accommodations for those families are due to open next year.
THE NORTH KOREAN security guards and snack vendors we met along the trail were polite, if cool, and talked little about their lifestyles except to say they are satisfied.
The exception was one particularly articulate female worker, obviously briefed on the six-nation nuclear talks and other current events, who criticized the United States for aggression. At least one North Korean said the United States deserved the Sept. 11, 2001, attacks because of chronic warmongering.
Most of the North Korean workers, including the waitresses at the Okryukwan restaurant, where lunch was served after the hike, refused to be photographed. But over this caution hovered a palpable aura of promise.
Maybe it arises from the $400 million that Hyundai Asan has already spent on development above the $1 billion for rights.
About 1,500 people make a living here: 95 with Hyundai Asan, another 162 with other South Korean companies, about 780 North Koreans and 450 ethnic Koreans recruited by the North Koreans in China.
But don't try to spend your South Korean currency in the North Korean shops.
Only U.S. dollars are accepted.