Tech grade is misleading,
officials say
The study based its criticism on whether teachers are certified
The study that ranks Hawaii among the lowest states in high tech is misleading, school officials said, partly because it places too much emphasis on certification.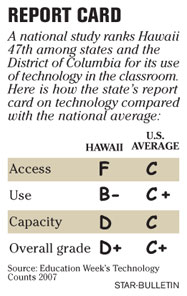 "The expectation is that yes, (teachers and administrators) are computer literate and they use" computers, said Greg Knudsen, spokesman for the state Department of Education. "But because we don't have the requirement for teacher certification and such, the assumption is that they aren't."
Only Oregon, which led the ranking with the sole A grade -- followed by South Dakota and Virginia -- had technology certification and licensing policies for both teachers and administrators. Overall, 25 states have requirements to ensure teachers are familiar with classroom technology, and 14 states have similar policies for administrators.
Rod Moriyama, assistant superintendent with the office of Information Technology Services, said he has been talking with the University of Hawaii about requiring technology certification. But he said education graduates at UH already need to have their own laptops as a prerequisite.
"We expect our eighth-graders to be certified in specific areas for the use of technology, and I think it would be reasonable to expect our teachers to do that, too, as well as our administrators," he said. "We have a lot to do, but we are making very good progress."
Released last month, the annual report examined access, use and capacity of technology at schools across the country as well as 14 indicators. Those included whether states have technology standards, computer tests and high-speed Internet connection.
Among the report's findings:
» Classroom computers are available to 32.5 percent of Hawaii students, below the national average of 49.5 percent.
» About 14 percent of schools in Hawaii have computers that allow students to instantly view digital videos online. The feature is available in 80 percent of schools in Virginia, which topped that category.
» Hawaii, which got an F for technology access, has one computer for every 4.5 students. Nationally, schools have one computer for every 3.8 students on average.
Knudsen said the report does not consider Hawaii's leadership in being the first state to wire all schools with Internet. But he agreed that more computers are needed. There are 50,000 computers hooked up to the Internet at Hawaii public schools.
"I don't think we can dispute that," he said. "We were relatively well on that for a number of years, but I believe other states have gotten ahead of us."
It is hard to say how much of the DOE's budget funds technology, because schools decide how they will spend their money under the Weighted Student Formula.
Vicky Kajioka, the DOE's director of advanced technology research, said the department provides supplemental online courses for as many as 400 students from 45 high schools each semester. The state also has an online school, the charter Myron B. Thompson Academy, she said. Only 22 other states have similar virtual schools, the report said.
The DOE is centralizing student information systems from all schools to more consistently measure progress and track students. So far, 127 schools -- about half of the state's public system -- have been integrated, and 92 more will be added to the network by this summer, Moriyama said.