| | |
| --- | --- |
| | Island Mele |
---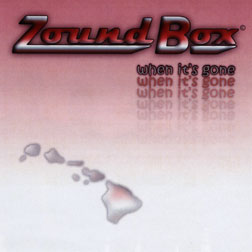 "When It's Gone"
Zound Box
(self-released)
The line between commercial releases and artists' demos has become almost invisible in recent years as composers, singers and groups bypass established record labels and do it all themselves. A DIY project sidesteps the challenge of getting a record deal, but there are times when professional support can help a new act get heard.
This album was released sometime last year with so little promotion that it came up empty at the 2007 Hawaii Music Awards and isn't on the 2007 Na Hoku Hanohano Awards ballot either. That's a shame, because Zound Box is a versatile act with a repertoire of originals that includes aggressive alt-rock, light but catchy pop, and a song titled "Livin' Aloha" that would be perfect as the theme of a public-service campaign against road rage.
Strong buzz-saw guitar riffs and solid work by the rhythm section drives "84," guitarist Doyle Purdy's fond look back at what was evidently a big year for him.
The group plays softer rock as well. "Hey You" and "Love to Love You" evoke memories of the light-rock groups of the '70s and early '80s. Purdy's skill as a lyricist comes to the fore with "Rescue You," a song about a man who wants to "rescue" a woman from her current lover.
---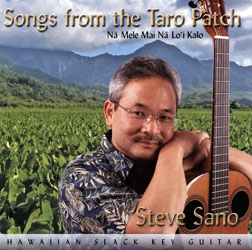 "Songs from the Taro Patch"
Steve Sano
(Daniel Ho Creations)
Sooner or later the Grammy Award for best Hawaiian album will go to an individual artist or group rather than to the producer (or producers) of a slack-key compilation. And sooner or later, the winning artist will be someone who lives on the mainland, rather than Hawaii.
Steve Sano's second album for Daniel Ho's L.A.-based record label is a contender on both counts. Sano, a California resident, plays slack key with a light touch and bright nahenahe (sweet, melodious) style. The album is a fine introduction to the genre, and fits nicely amid recent releases of island residents.
Sano establishes his credentials with the first song, "Ha Huaka'i," a melody he composed for a relative's wedding, and steps outside the standard ki ho'alu repertoire with a melody by Okinawan nationalist Shokukichi Kina. He also does justice to an assortment of Hawaiian standards, including "Pua Lililehua," "Ka 'Oiwi Nani" and "Kaulana Na Pua."
Documentation is an essential part of all Hawaiian releases, and Sano completes this beautiful album with information about the significance of each song and his slack-key tunings.
---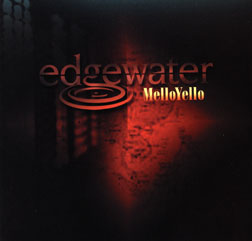 "MelloYello"
Edgewater
(7ATE9)
Singer-songwriter Denny Miyasato is the voice and lyricist of Edgewater, a modern rock group that usually performs as a quartet but appears here as a studio ensemble. The roster includes six guitarists and two bassists, plus Dan Del Negro on keyboards and Wendell Ching on drums and drum effects programming.
Song-by-song performance credits aren't included so there's no way to know for sure why the veteran bar band used the additional musicians. Dave Toma, the group's resident lead guitarist, certainly needs no back-up on six-string.
Whatever the explanation, the finished recordings fit together smoothly. Miyasato opens with an up-tempo rocker and keeps the mood rough for several songs before slowing down and getting romantic with a handful of power ballads. "I Don't Have To" expresses the wonder that comes with finding someone who understands you.
Miyasato catches the ear with his lyrics. "You were way too young/It was much too fast" draws the listener into "Love & Hate." A story of similar complexity beings with the bitter observation that "I thought you'd be/Not so materialistic/I thought I'd found/Someone to fit ..."
"So Beautiful" celebrates love and beauty with a shopping list of famous artists and works of arts. Yes, that idea has been used before, but Miyasato deserves to be heard.
John Berger
, who has covered the local entertainment scene since 1972, writes reviews of recordings produced by Hawaii artists. See the Star-Bulletin's Today section on Fridays for the latest reviews. Reach John Berger at
jberger@starbulletin.com
.