Skybox, Osake, Bamboo Sky say goodbye
IT ALL comes down to this weekend for the businesses at 1700 Kapiolani Blvd., as
Skybox Sports Bar and Lounge
,
Osake Sushi Bar
and Lounge
and
Bamboo Sky
close their doors on Saturday.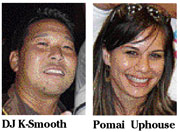 Unfortunately, lease renegotiations that took place over the past few months were unsuccessful in brokering a deal between the businesses and the building's landlord. While Bamboo Sky already has another retail location waiting near the Ward Entertainment Complex, I'm told it might be awhile before Skybox reopens. And it looks like Osake will simply fade away.
What about Sushi Supreme's Grant Kawasaki, Shannon Akazawa and Norlan Horita, the brain trust behind Osake's food menu?
According to Kawasaki, Honolulu residents will still be able to get their fill at both Marukai locations on Oahu and at E Lounge in Kalihi. Kauai residents are also in luck, as the trio hope to expand their all-you-can-eat sushi catering service to that island later this year. Call 620-5863 for info.
If you want to stop in and say goodbye, Hot 93.9's Pomai Uphouse and DJ K-Smooth wrap up their stint at Osake on Friday, while Saturday promises to be epic with "The Good Times Campaign Block Party" kicking off at 8 p.m. Both Skybox and Osake will feature $3 Heinekens and $3 Long Island Iced Teas, with DJs Chronkite and Toma Turner on the decks and live performances by Next Generation, Most High, Lalea and Rasta Feva ...
THERE ARE two great options for beer aficionados this week, starting with the monthly "Hops and Grinds" tasting event at the Willows on Friday.
This month's theme is Celtic beer, with a variety of Scottish and Irish brews available with unlimited pupus prepared by executive chef Jay Matsukawa. Chicago-based traditional Celtic band Switchback will perform. Tickets for the event are $30 at the door; call 271-9701.
Over at Sam Choy's Breakfast Lunch and Crab, the Big Aloha Brewery wraps up its annual beer festival this weekend. I've always been a fan of brewmaster Dave Campbell's Kiawe Honey Porter, but I'll definitely have to try the new Lehua Honey Wheat beer that was recently introduced ...
MIXED MARTIAL ARTS fans already know about this weekend's "ICON: Epic" going down at the Blaisdell Arena on Saturday. It'll mark the return of Jason Miller to the ring after losing his title to Frank Trigg, who will also be on the card defending said title against Robbie Lawler.
Promoters are also excited to introduce Po'ai Suganuma to local fans, as the Hilo native has made a pretty big name for himself in Japan, but remains a virtual unknown here in the islands.
Also rumored to be in attendance at "ICON" are UFC fighters Quentin Jackson and new heavyweight champ Randy Couture. "The Natural" will also make an appearance at Pipeline Cafe to promote a documentary in which he stars.
"Fighter" will screen at 3 and 4:15 p.m. Sunday, with the $50 admission including a DVD copy of the documentary, a signed Couture T-shirt and a chance to meet and greet the 43-year-old warrior. Call 589-1999 ...
MORE PICKS: Funky4Corners and Scion Hawaii return to the Waipahu Fil-Com Center on Friday for the finals of "Monarchy" from 5 to 10 p.m. Local B-boys and B-girls will face off to see who is the best, with a grudge match between California's Circus Runaways and Hawaii's top talent also planned ... Kona Block Entertainment presents Kalihi's Herban Legend at the O Lounge on Friday. T-Bird and Kupid have collaborated for about five years now, and plan to release their debut later this year ... And if you can afford the plane ticket, Bone Thugs-N-Harmony play Maui on Saturday. Local rapper I.A. is among the openers ...