---
FAST FACTS HAWAII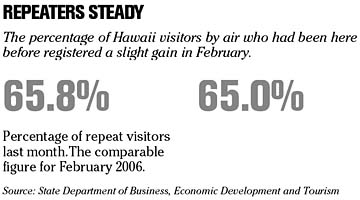 ---
[ HAWAII INC. ]
Promotions
» Aqua Hotels & Resorts as announced the following new hires and promotions:
Joseph Yamaoka has been promoted to general manager of Aqua Palms & Spa from area manager of Aqua's Boutique Hotels. He has been with Aqua since 2001.
KeAlii Alexander has been hired as general manager of Aqua Aloha Surf. He previously served ResortQuest Hawaii as assistant general manager of its Waikiki Beachside and Waikiki Beach Tower properties.
Terry Yasuhara has been hired as general manager of the Aqua Island Colony. He has been a general manager at several Hawaii resorts, and has more than 20 years of sales and management experience.
Kahealani Doss has been hired as assistant general manager of Aqua Palms & Spa. She returns to Aqua after working at Kahala Hotel & Resort.
Julian Martinez has been promoted to assistant general manager of Aqua Island Colony from guest services manager at Aqua palms & Spa.
Shelley Tokuda has been hired as guest services manager for Aqua Aloha Surf. She previously was with Kahala Hotel & Resort.
Elections
» The Hawaii State Federal Credit Union has announced its board of directors and supervisory committee for 2007.
The directors are Beverly Ing Lee, chairwoman; Tit Mun Chun, vice chairman; Peter Leong, treasurer; Amy Motooka, secretary; and Louise Akamine, David Shimabukuro and James Takushi.
Supervisory committee members are Warren Motosue, chairman; Alvin Chong, secretary; and Gerald Dang, Wayne Horie and Richard Yamamoto.
Awards/Certifications
» Queen's Medical Center has honored
Donna Sheather
as its 2006 Employee of the Year. She was among 12 employees honored at a special ceremony on Feb. 23. She is a social worker in the hospital's behavioral health department.
» The American College of Healthcare Executives has awarded a fellowship to Anthony Gelish of Booz Allen Hamilton's Honolulu office. The fellowship represents achievement of the highest standards of professional development, with only 5,400 healthcare executives holding that distinction.
» Dr. John D. Olkowski of EyeSight Hawaii has been selected as the first and only ophthalmic surgeon in Hawaii to participate in the U.S. Food and Drug Administration clinical trial for an investigational dual-optic accommodating intraocular lens by Visiogen Inc. Olkowski was selected as one of 20 doctors in the nation to evaluate the safety and effectiveness of the lens in patients undergoing cataract surgery.
» The Credit Union National Association awarded Hawaii Community Federal Credit Union with its 2007 Diamond Merit award at its annual marketing and business development council conference in Las Vegas. HCFCU was presented the award for its redesign and makeover of its branding and corporate identity.
---
HAWAII
Target plans Salt Lake store Target Corp. plans to open a Salt Lake store in tandem with one already in the works for Kapolei Commons.
Brie Heath, spokeswoman for Target, told a meeting of the Makakilo/Kapolei/Honokai Hale Neighborhood Board Wednesday night that the company is planning a second location at the former Costco Wholesale site in Salt Lake. Target won preliminary approval for its plans for the Kapolei Commons store from that area's neighborhood board.
The retailer plans to open the stores in the first half of 2009. Eric Padget, Target's development property manager, said the company would be hiring about 250 employees locally, including management.
Padget said the first Target store in Hawaii would not be a SuperTarget, a larger store including groceries.
Hoku gets Bankoh backing
Hoku Materials, which broke ground Tuesday on a $260 million polysilicon production plant in Pocatello, Idaho, said yesterday it has opened a credit facility of up to $13 million with
Bank of Hawaii
to help fund the plant.
The subsidiary of Kapolei-based Hoku Scientific Inc. said it plans to use $4.2 million of the funds for its polysilicon reactor purchase contract with GEC Graeber Engineering Consultants GmbH, and MSA Apparatus Construction for Chemical Equipment Ltd.
In addition to the $13 million credit facility, Hoku said that solar-panel manufacturer Sanyo Electric Co. Ltd. already has deposited $110 million into an escrow account as a prepayment against its $370 million seven-year polysilicon supply agreement with Hoku.
Hoku said it plans to complete the plant in the second half of 2008, with polysilicon shipments planned for the first half of 2009.
NATION
Billionaires up offer for Tribune LOS ANGELES » Billionaires Eli Broad and Ron Burkle sweetened their offer yesterday for Tribune Co., surpassing the $8 billion bid made by real estate magnate Sam Zell just ahead of the deadline for the Chicago- based media company to announce its future plans, a person familiar with the offer told the Associated Press.
Broad and Burkle sent a letter to the Tribune board offering $34 per share in a recapitalization effort that would involve an employee stock ownership plan, said the person who was not authorized to disclose details and asked to remain anonymous. The two Los Angeles billionaires also offered to contribute $500 million in cash to the deal.
On its face, the revised offer exceeds Zell's bid of $33 per share, although full details of the Broad/Burkle bid were not known.
Dell internal audit finds errors
DALLAS »
Dell Inc.
, one of the world's largest PC makers, said yesterday that an internal audit committee has found a number of accounting errors and evidence of misconduct in its monthslong review of previous earnings statements.
Dell also said it would miss an April 18 deadline to file its annual 10K financial report to the Securities and Exchange Commission until the internal review is completed.
In a short news release, the Round Rock, Texas, company said the internal audit had "identified a number of accounting errors, evidence of misconduct, and deficiencies in the financial control environment."
Further details were not provided, and Dell spokesman Dwayne Cox said the company was unable to comment further.
Data theft may be a record
BOSTON » A hacker or hackers stole data from at least 45.7 million credit and debit cards of shoppers at off-price retailers including T.J. Maxx and Marshalls in a case believed to be the largest such breach of consumer information.
For the first time since disclosing the theft more than two months ago, the parent company of nearly 2,500 discount stores put a number on how much card data was compromised -- and it's a number TJX Cos. acknowledges could go still higher.
Experts say TJX's disclosures in a regulatory filing late Wednesday revealed security holes that persist at many firms entrusted with consumer data: failure to promptly delete data on customer transactions, and to guard secrets about how such data is protected through encryption.
---
BUSINESS PULSE