Noll knows surf: Boards are his life
Greg Noll was, and is, a powerhouse. A thick-necked California surf rat with the ability of a theoretical mathematician to visualize complex analog shapes and -- better yet -- to project those shapes hidden within slabs of wood or foam, Noll is one of the those rare athletes who advance their sport not just in competition, but in technological leaps and business acumen.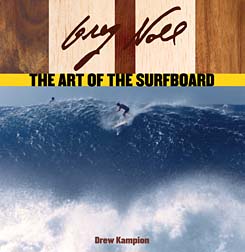 "Greg Noll: The Art of the Surfboard," by Drew Kampion (Gibbs Smith, $29.95)
Leafing through the pages of "The Art of the Surfboard" wears you out, just from the sheer impact of Noll's personality. Kampion -- a longtime surf writer with a canny feel for the history of the sport -- pretty much captures the many facets of Noll's contributions to surfing and also resists the overheated surf-magazine puffery. Noll emerges not as a god, but as a talented guy good with both his hands and his brain. And his heart is in the right place, too.
It helps that Noll apparently never threw anything away. The book is chockablock with family snapshots, old advertisements, memos -- the accumulated detritus of a career. Kampion's writing is first rate. But it's the photos that sell the book: image after image of beautiful boards, most rearing skyward as unconscious (let's hope) symbols of surfing virility.
Amid a tsunami of such books in the last few years, this is one of the best. Now that the old-time watermen are getting on, it's high time such histories were written.
As Kampion says: "Every month now, another one or two of surfing's great souls pass into the big ocean in the sky. No doubt they live on, in the very least in our memories, which are not so perfect and are limited. So it's absolutely vital that their histories are captured.
"This is one of the aims of the Oral History Committee of the Surfing Heritage Museum, which is based in San Clemente, Calif. -- to get those stories from the great old watermen before we need a medium!"
Kampion went on to point out that surfing has had a profound effect on American popular culture, influencing clothing and grooming styles, musical forms and styles, and art and literature.
"It has also brought cultural perspective to an increasingly mechanized society, and it continues to inform that society by its engagement with the diminishing world of the wild. But surfing is also having a massive global impact -- under the radar of politics and warfare and corporate cynicism."
It all started here in the islands, once again accurately termed the "crossroads of the Pacific," and Kampion engages in a just a few pages of ancient Hawaiian surfing lore. But that incredibly rich field is for another book. "Greg Noll: The Art of the Surfboard" zeroes in on Greg Noll and on the art of surfboard craftsmanship, and does so with savvy good humor.
---
BACK TO TOP
|
'Da Bull' turned boards into art
A new book describes the magical skill of the big-wave rider
Let's talk magic. Not the hocus-pocus, or the voodoo that you do. More like things that occur right in front of your eyes, stuff that makes your jaw drop, like the sight of a human being sliding down a roaring, hurtling mountain of water; or the graceful beauty of a thing designed and constructed, a hand-built machine that is so harmonious with the rhythms of nature that it seems like a living thing itself.
As Arthur C. Clarke said, "Any sufficiently advanced technology is indistinguishable from magic."
Which leads us inevitably, at least today, to the damp, sandy footprints of California surfer Greg Noll. "Da Bull," as he's called affectionately by Hawaii surfers, is a living legend who deserves the honorific. Not only did Noll ride some of the biggest waves in surfing history, he helped make surfing a mainstream sport that operates on a businesslike basis.
However, we're not here to honor Noll, but to sweep up after him. The new book "Greg Noll: The Art of the Surfboard," by Drew Kampion, is an examination of Noll's prowess as a maker of surfboards and, by extension, becomes a design history of the modern surfboard, a sublime mix of the craftsman's art and the science of hydrodynamics.
Author Kampion says that surfboard-building has "long been perceived as a sort of arcane craft, best left in the hands of the art's magician-masters or shaping gurus. That view has been slowly changing, and today there is widespread acceptance of mass-produced boards.
"But while the mass-produced boards are stronger and more durable, there remains a sense of the superiority of the handmade craft, of which Greg is an enduring master."
The book goes into some detail about the materials used to make boards, with pride of place going to the yin-yang of balsa wood and plastic foam.
"Because it is faster and easier to work with than balsa wood, foam made it possible to rapidly increase production of surfboards precisely at the moment that surfing achieved mass appeal in the late 1950s," said Kampion. "The surf-culture explosion of the early 1960s would have been an anemic shadow of itself without foam."
Noll himself loves balsa but is resigned to the use of foam. Is Noll physically able to throw away a piece of wood?
"I've seen him burn a few, but throw away? Nah!" laughs Kampion.
Noll, according to Kampion, also hoards every artifact and piece of paperwork he ever produced. It made it easier to research the book.
"He's a collector and a pack rat!" said Kampion. "Other elements were discovered at the Bishop Museum in Honolulu (a marvelous resource and always great to work with!) as well as through Noll enthusiasts (and there are many) around the world."
Another aspect is the relationship between shaping boards and riding them -- many of the great surfers are also shapers.
"Greg was one of the best during the era in which he developed his shaping skills. He knows what works and is such a great craftsman that he continues to create effective wave-riding forms.
"Surfboards are sometimes considered to be art forms. For instance, when Julian Schnabel creates a major work featuring three black surfboards, it's art, and it receives a concomitant valuation," continued Kampion. "When Greg Noll carves an ancient surfboard shape out of a chunk of koa wood, then shaves and sands and oils it into a new life as a surfboard, that is a work of art.
"When a composites manufacturer takes the impression of an artfully created surfboard, makes a mold of it and stamps out 1,000 just like it, it's not art, it's manufacturing. Still, the end product might work great as a vehicle for riding waves."
Surfers get emotionally attached to their boards. Is that because they are the interface between the body and the environment? Good rides equal good vibes? Into the mystic?
"A surfboard is often perceived as an extension of the surfer, but it's more than that. It has long, flowing curves, an attractive symmetry, a cute smile ..." kidded Kampion. "But it's true that the dance between a surfer and a wave is mediated by the surfboard, and the perfect board will allow that dance to be spontaneous and fluid and natural in a way that feels magical. Thus a special bond forms between rider and vehicle. Whether the feeling is mutual, who can say?"