ROBBERY ATTEMPT SUSPECTED
Gunfire kills man in Waianae home
Honolulu police are investigating whether a robbery attempt led to a gun battle in a Waianae home that left one man dead yesterday morning.
Neighbors said they heard at least five shots at about 6:45 yesterday morning after seeing several men with T-shirts pulled up to hide their faces enter a home at 85-126 Maiuu Road in Waianae.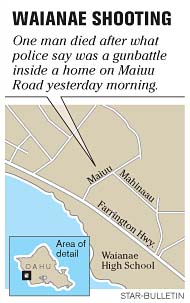 A 28-year-old man was found outside the home with a single gunshot wound. He was taken to the Waianae Coast Comprehensive Health Center where he was pronounced dead.
Police arrested a 55-year-old man at the scene at about 7:30 a.m.
The victim's identity was not released last night.
"We know some men showed up at the house, broke into the home by kicking in the front door, and some shots were fired from both sides," said Lt. Bill Kato of the Honolulu Police Department homicide detail. He said the victim apparently did not live at the home, which was occupied by two people.
Police were looking for the other people involved in the shooting yesterday.
Kato said police were obtaining a search warrant to enter the home last night.
Neighbors said the house is known for holding cockfights and was robbed a few months ago.
Game cocks were visible in the yard of the home.
Jae Valdez, a 23-year-old who has lived on the street for nine years, said she saw several men climb into a black car and a champagne-colored car after the shooting.
"For some reason they kinda lingered there, sitting in the car," Valdez said. "The black car even backed up a little bit to let a garbage truck go through, and then they left a bit later."
Valdez said the men had black jackets and white shirts with their faces covered.
Valdez said she is a mother of two children, and that she never lets her 3-year-old daughter play on the road.
"It's not the first time I've heard gunshots around here," she said. "Come on, this is Waianae we're talking about."