Feds go after online sex criminals
Kubo says Project Safe Childhood will help protect children
With 14 men accused of preying on children online last year in Hawaii, U.S. Attorney Ed Kubo is seeing a disturbing trend in online sex crimes.
Kubo vows to take sex crimes offline
U.S. Attorney Ed Kubo, citing last year's arrests of more than a dozen men here for online sex crimes, sees a trend that has prosecutors worried: Predators are hunting children over the Internet.

Kubo said these types of cases are rising with the popularity of Internet socializing and file-sharing. In 2003 there were about 564 cases of online predators, and Kubo said 2005 yielded more than 1,600 cases nationwide.

Yesterday, the U.S. attorney announced a partnership with city and state officials to aggressively arrest and prosecute sexual predators and those who are party to child pornography.

"Now's the time to draw the line before any other child is endangered," Kubo said.

Project Safe Childhood's approach will be four-pronged:

» Prosecuting online pedophiles and sexual predators.

» Hunting down those who send and receive child porn.

» Rounding up unregistered sexual offenders.

» Educating parents on the dangers of online communication.
Kubo highlighted the cases to announce Project Safe Childhood, a Justice Department effort targeting sexual predators and offenders.
At a news conference with city, state and other federal officials and photos of accused sex offenders, Kubo said "technology has created a vast new playground for sexual predators."
Four men were arrested here last year for allegedly soliciting sex with children through the popular networking site My- Space.com, Kubo said. Another 10 men were charged with crimes relating to child pornography.
Project Safe Childhood is part of a nationwide campaign to raise awareness of online predators and sex crimes.
The effort will focus on prosecuting online predators, anyone party to child pornography, and unregistered sex offenders, and raising awareness through community outreach programs.
State Attorney General Mark Bennett said obtaining child pornography is not a victimless crime.
"Anyone who takes possession of such an image continues that brutalization and victimization," Bennett said.
Paul M. Winchell, one of the men indicted on child pornography charges, is accused of advertising online to trade child pornography, Kubo said. He allegedly had about 15,000 photos and 2,000 movie files of child porn.
"No doubt child pornography does to these pedophiles what gas does to fire," Kubo said.
---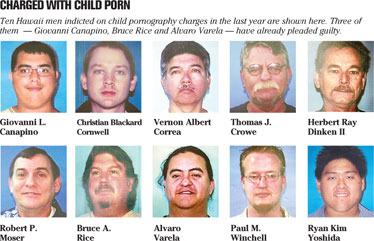 ---
Kubo said there are about six to eight cases still being pursued at his office. Kubo did not mention 48-year-old Dawe Glover, who was indicted in January on a child pornography charge.
Caught in the net
Honolulu police officers arrested four men last year for allegedly sexually assaulting their underage victims whom they met through MySpace.com:

» Joseph Colasacco, 30, was indicted in February and later convicted on five counts of first-degree sexual assault, four counts of promoting pornography for minors, three counts of first-degree electronic enticement of a minor and third-degree sexual assault for a case involving a 14-year-old Waialae boy.

» Kelvin O'Neal Ford, 33, was arrested in March on four counts of first-degree sexual assault and three counts of third-degree sexual assault involving a 15-year-old Aliamanu girl.

» Matthew Cargill, 29, was arrested in March on two counts of first-degree sexual assault, five counts of third-degree sexual assault and first-degree electronic enticement of a child involving a 15-year-old Kaimuki High School girl.

» Kalani Trujillo, 25, was arrested in August on first- and third-degree sexual assault charges after a 15-year-old girl told an acquaintance she had been sexually assaulted.
Anyone convicted of child pornography crimes could face up to 10 years in prison, he said.
Prosecutors and law enforcement will also be targeting sexual offenders who are not updating their profiles in the sex offender registry. There are about 2,100 known sexual offenders in the state, and several hundred who have not registered, prosecutors said.
Bennett said his office has indicted more than 20 people in the past year for not updating the registry.
Kubo said it is important that teens know not to put too much personal information online.
"By providing personal information, (children) are not only giving it to people they don't know, but to people who may use it against them. They have to treat it as if they're giving it to the public," Kubo said.
Become a firewall between children and Web attacks
» Develop rules for your children's Internet use. Rules should include what Web sites they can visit, whom they can talk to online and where they can use a computer.
» Keep the computer in a common area of your home, like the living room. Do not leave the computer in the privacy of your child's room.
» Disable Internet access on your child's cell phone. Most popular instant messenger programs and social networking Web sites have cell phone accessibility.
» Pay attention to warning signs. Do they change screens or minimize windows when you enter the room? Are they suddenly spending much more time online and getting phone calls from people you do not know?
» Periodically review your child's Internet activity. Check the History folder of your Internet browser. Check the chat records of their instant messenger programs. If they are on MySpace, create an account for yourself and make sure you are added to their friends list.
» Explain to children that they need to be careful about what they allow to be posted on their blog or anywhere on the Internet. Online predators can find out a lot about your child by reading posts by friends in the comment sections of various blogs.
» Communicate with the parents of your child's friends. Many kids use computers at their friend's house.
» Consider using filtering software to control what Web sites your child can visit. "Net Nanny" and "Cyber Patrol" are currently popular programs.
» Do not hesitate to contact authorities if you suspect there is a problem.