Torres found guilty of 1992 murder
The ex-DOJ police officer is convicted despite assertions the victim was never killed
It has been 15 years since 19-year-old Ruben Gallegos walked away from his cashier cage at the Pearl Harbor Submarine Base Exchange where he worked, never to be seen again.
Yesterday, a Circuit Court jury found former Department of Justice police officer Jenaro Torres guilty of second-degree murder in Gallegos' death.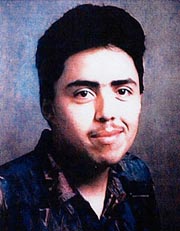 Ruben Gallegos
"We thought this day would never come," said a tearful Blanca Lerma as she expressed thanks to all those responsible for bringing her brother's killer to justice.
She continued to express hope that Gallegos' body would still be found and his remains returned home to El Paso, Texas.
Stoic throughout the trial, Torres showed little emotion when Circuit Judge Michael Town's clerk announced the verdict.
Deputy public defender Ed Harada said later that they were disappointed in the outcome and intend to appeal.
"I felt we had a very strong case, and unfortunately the jury didn't see it that way," said Harada, who also thanked the jury for their sacrifice and conscientiousness throughout the trial. "As I said in jury selection, everybody needs to do their job as best as they can, and they called it as they saw it."
State Attorney General Mark Bennett lauded the work of Deputy Attorneys General Susan Won and Neal Murakami, who prosecuted the case, and the combined efforts of the cold-case units of the Naval Criminal Investigative Services and the state Attorney General, the FBI and Honolulu police.
This was an extraordinarily difficult case to prove, Bennett said, because unlike other murder cases, Gallegos' body has not been found and the defense in this case was not only that Torres did not commit the murder, but there was no murder at all.
Gallegos was last seen leaving the Navy Exchange on May 1, 1992, carrying a money bag containing $80,000. He was accompanied by Torres, who was on leave at the time but in uniform.
Torres was stopped some five hours later as he tried to enter Pearl Harbor. Found in the trunk of his car was all but $2,000 of the missing money, a stun gun and a bag containing Gallegos' wallet, ID cards and hairbrush. Also in the glove compartment was a firearm that prosecutors said had been fired within the last eight hours, and spent bullet shells.
The evidence at the time was not enough to charge Torres with Gallegos' disappearance. He was convicted instead in federal court for robbery and served a two-year sentence.
Won especially lauded the efforts of special agent Bruce Warshawsky of the Naval Criminal Investigative Services, whose dedication to the case over the years helped build the case against Torres.
One of the witnesses he tracked down in 1998 was Susan Davis, who worked with Torres the year before at a pharmaceutical company in California.
Davis told investigators that Torres had threatened that she would never see her family again if she revealed his secret.
Over lunch at Taco Bell three months after he began working at her company, Torres confided that he had robbed a bank in Hawaii and that he had put an accomplice "out of commission" because he was backing out of the plan and was going for a gun.
One juror who declined to be named said they some had difficulty getting past the absence of a body.
They also agreed that Gallegos, who was portrayed by his sister as family-oriented and would call his parents in El Paso every Sunday and send money to them regularly, would not suddenly cut off all contact with his family.
"We figured he wouldn't just run away from his family, seeing as how close he was to them," the juror said. After much discussion, "we all agreed he was dead, then it was just a matter of, Did the evidence in court show Torres committed it?" he said. "We eventually got there."