AGAIN
» Fatal Helicopter Crash: A chopper pilot reports mechanical problems before losing control and crashing in a Kauai field.
» Deadly Repeat: The accident comes just days after another helicopter went down on the Garden Isle, killing four.
HAENA, Kauai » Some witnesses who saw the helicopter crash yesterday believe the pilot made heroic efforts to steer his chopper from homes and a beach packed with tourists and residents on a beautiful Sunday afternoon.
Firm's helicopters have crash history
Previous crashes on Kauai involving Inter-Island Helicopters:

» Dec. 25, 2005: Pilot Jonathan D'Attilio, 20, died while helping to put out a brush fire when his McDonnell Douglas 369FF helicopter crashed into the De Mello Reservoir in Lihue. D'Attilio was attempting to fill a bucket with water at the time of the crash. D'Attilio was the son of Ken D'Attilio, owner of Inter-Island Helicopters.

» April 18, 1994: One person died and four people were seriously injured when a Hughes 369D helicopter on a sightseeing tour lost engine power while maneuvering near a waterfall. The helicopter crashed below Mana Waipuna Falls near Hanapepe. According to the National Transportation Safety Board, the helicopter's engine failed due to blockage in the fuel nozzle strainer.
Kurt Doldinger was sitting on Haena Beach with his girlfriend, reading a book, when he "heard a pop" and saw a helicopter, flying directly overhead, lurch.
The pilot, Doldinger said, appeared to gain control for a moment, flying along the beach about 500 feet up, and made "a big arc, turning" inland.
"He looked like he was looking for a place" to land, Doldinger said.
But as the craft turned back toward the beach, it started sinking and "zigzagging out of control," he said.
Then, he said, the helicopter went out of view. He dialed 911.
"It was pretty horrific to watch," he said.
Lois Coleman was sitting in her living room, which overlooks the beach, when she heard "two pops."
As she walked out to her lanai, she saw the helicopter a few hundred feet above, "just spinning" right toward her house. It passed just overhead, crashing down in the neighboring property, the YMCA's Camp Naue.
"I came out here and I looked over the roof," Coleman said from her lanai.
It became quiet. "There was no noise. It just stopped," she said.
The craft came down hard, hitting branches and a fence before coming to rest in a corner of the YMCA property.
Then a woman screamed, Coleman said. "I didn't know who it was. It's a pretty small community," she said. She went back in the house to call for emergency personnel.
A pilot and four passengers were aboard. One passenger died. A man and a woman were transported to the Queen's Medical Center in critical condition, said Mary Daubert, a Kauai County spokeswoman. A woman remained at Wilcox Memorial Hospital in critical condition and was scheduled for surgery today.
The pilot was treated and released. Daubert did not have the names, ages or hometowns of the passengers.
De'on Flud, who lives two houses away from the crash site, was working on her deck when she heard the helicopter's engine.
At first the helicopter was out of sight, beyond the roof line of her house, and annoyed Flud for not obeying rules to fly over the water. But then she noticed something did not sound right.
Within seconds the helicopter appeared above her house.
"He was so low I thought he was going to crash into our house," she said. "I was hysterical; I was not calm. He was just over a coconut tree."
She saw the helicopter spin once above her house, then spin again over the neighbor's house, spinning in tighter circles toward the YMCA camp.
"They were tight spins. They were getting tighter. I thought he was going to land it, but it clipped the trees," she said.
The rotors hit the trees and threw the craft sideways, she said.
Richard Gill was mowing his yard, across the road from the YMCA camp.
He caught sight of the helicopter when it was about 300 to 400 feet above the ground.
"The engine was laboring, and it was spinning" straight down into the ground, Gill said.
Gill came running.
The pilot, he said, appeared to be "dazed or unconscious at first, but he came to quickly," Gill said.
The pilot unstrapped himself as he and Gill and a number of other bystanders began helping the injured.
One neighbor, who asked that his name not be used, said all five people aboard were conscious and breathing when he arrived, jumping a fence from the neighboring property just as the helicopter hit the ground. He was inside working on the house when he heard a crash, he said.
Luckily, the man said, a number of people with emergency training arrived within minutes.
"You can call that whatever you want," the man said. "It's a good reason why anyone survived."
Sam Morningstar, a former firefighter and emergency medical technician who arrived with Gill, said he believed the man who died was in the front passenger seat.
The couple in the rear of the craft, whom he and Gill said were in their 50s and from New Hampshire, complained of back pain but were awake and responsive.
Only about a few hours before the crash, a group of kids were celebrating a birthday in the camp.
It was lucky none of them was there, said Flud, who lives nearby.
"Maybe because of the birthday party it wasn't open. Everybody cleared out by lunch time," Flud said.
At Princeville Airport, investigators from the Federal Aviation Administration and the National Transportation Safety Board were preparing to move the Heli USA chopper that crashed Thursday.
At just after 1 p.m., a fire and medical crew that were on standby rushed through the exits and toward the second crash, roughly 20 minutes away. They were followed by investigators from the FAA, who arrived at the scene before the second ambulance.
They began taking photos of the helicopter and interviewing witnesses. By 2:30 p.m. the entire team of federal investigators was headed to the crash site.
---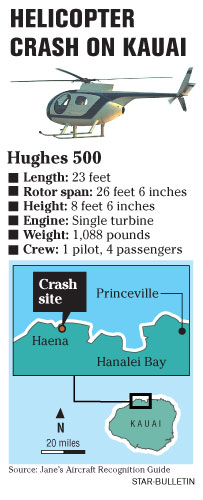 ---
Star-Bulletin reporters Robert Shikina, Alex Da Silva and Rosemarie Bernardo contributed to this report.